Three-year-old girls have entered the years of what many call the "magical years." Young girls will begin to grow and develop physically, socially, and cognitively in the coming years.
It is for this reason we recommend choosing toys that will help them to continue developing their psychomotor and cognitive skills as well as their language, emotional, and social skills.
Choosing the best toys for your child is very important as they grow and develop. We know this can be challenging at times and have created a list of our top 20 toy recommendations for three-year-old girls.
20 Best Toys & Gifts for 3 Year Old Girls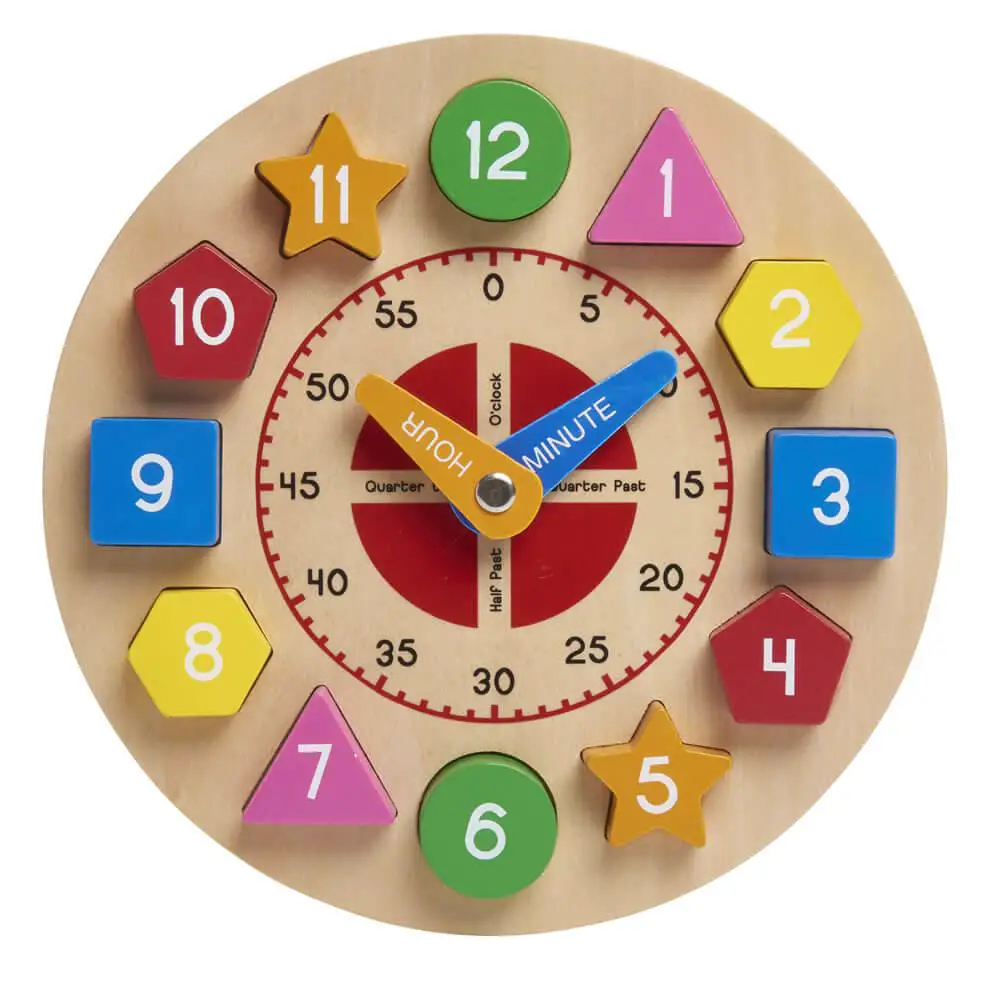 What Time Is It?

Our rating
Teaches Time Telling
Price:

See Here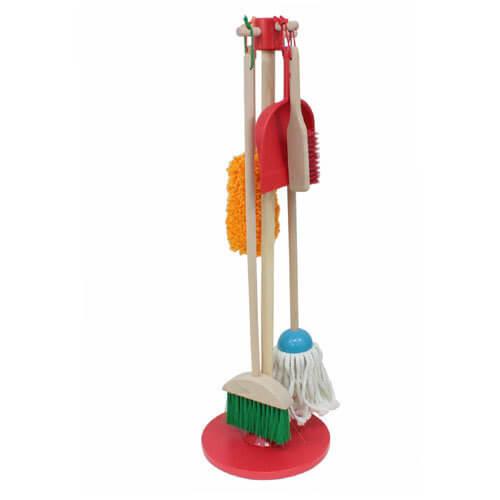 Let's Play House

Our rating
Make-Believe Play Tool
Price:

See Here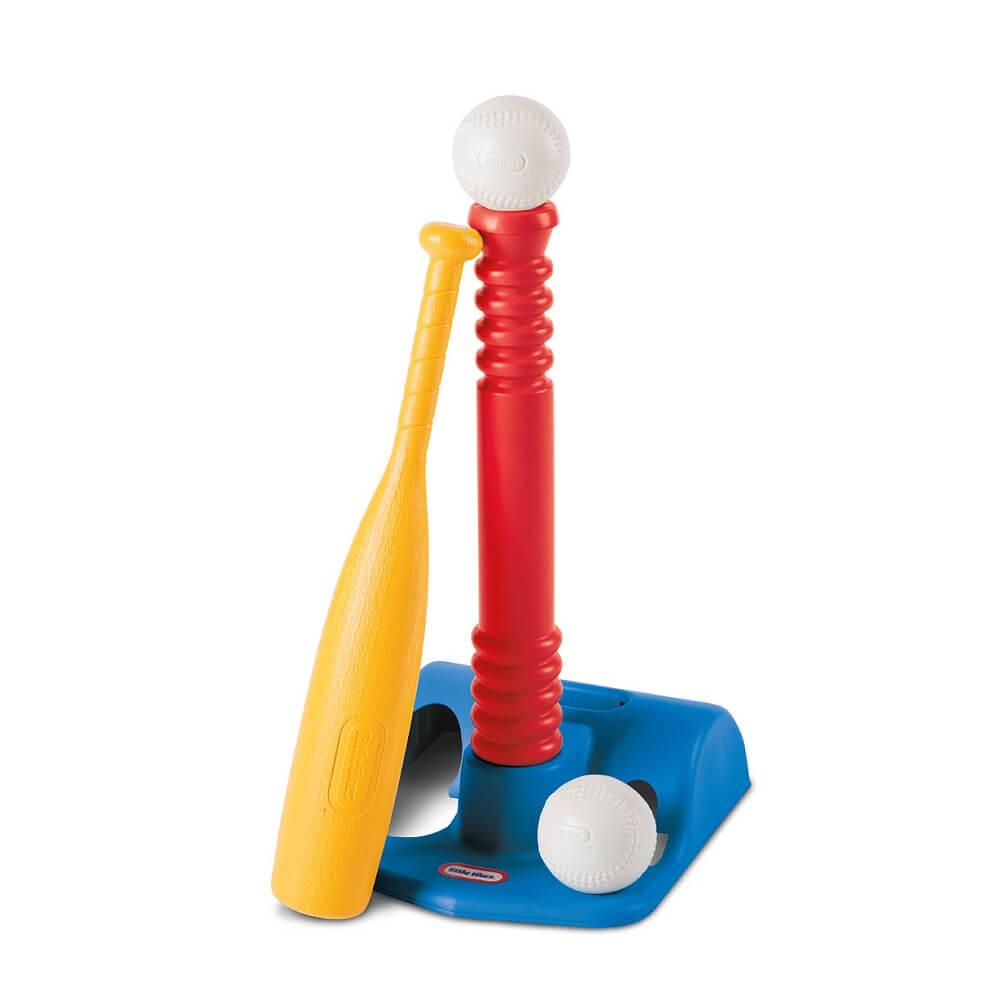 T-Ball Set

Our rating
Improves Coordination
Price:

See Here
What Time Is It? Glow In The Dark Clock Puzzle
Introduce your child to the wonders of how to tell time! A great start for a wonderful head start on how to tell time. Vibrant colors will work your child's ability to read time by the numbers. Take away pegs with the numbers on the clock that can create a more dynamic game about how time can be read. Cool shapes will keep your kid entertained for hours. A great preschool tool to teach your little one a thing or two about the clock. By 3 years old most children have the ability to begin reading a clock. So get your little one started on the right foot with this extra durable wooden clock toy.
Benefits – Learning to tell time is always a significant time in a kids life. This clock will introduce the concepts of time- telling in a very tangible way. With clocks and pegs to match with the numbers on the clock your kid will have a smooth process when it comes to learning to read the clock.
What We Like about It – The paint job on this fun kids clock is what makes it really great. The many dots and different subtle and vibrant colors at work give the clock an almost motioned look to it. If you look at the center it looks as though it is in motion; this will help your child to remember that clocks are always in clockwise in direction.
Pros
Easy to work with as a kid with small hands
Vibrant colors are fun and catchy
The size of the actual clock is pretty big
The numbers that have been painted on are quite easy to read
Cons
Let's Play House! Dust, Sweep, and Mop by Melissa & Doug 

Now you can teach your 3 year old girl how to clean her room. With the Let's Play House! Dust, Sweep, and Mop playset, teaching kids how to keep areas clean is much easier and more fun, too. The set comes with a broom and mop as well as a duster, dust pan, and a brush. These 5 cleaning tools come with a stand for convenient storage.
Benefits – Cleanliness is an extremely important habit. This toy will not only
help your child to learn the importance of keeping a clean home,
but it will also teach her the importance of cleanliness in other areas  of her life. It's also an ideal toy for her because she will be introduced to cleaning up early on, which will assist her in building an enthusiastic attitude towards cleaning instead of her viewing it as a duty or a chore. In the end she will know that a clean life is a happy one.
What We Like about It – It's effective in teaching kids how to clean their rooms in a fun way. Also helps foster imagination while at the same time enhancing their gross motor skills.
Pros
Very interactive
Promotes enhanced motor skills
Fosters imagination
Durable
Cons
Wooden pieces may have a rough texture
Pieces may be smaller than they appear
TotSports T-Ball Set by Little Tikes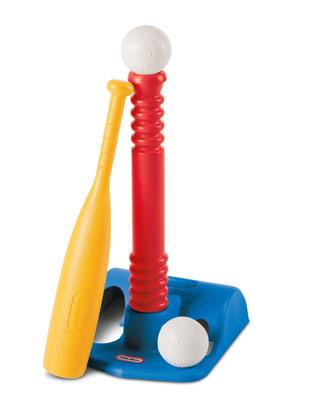 Do you think your little princess has what it takes to be the next Sophie Kurys or even Dottie Wiltse? If so, then you need to give her the TotSports T-Ball Set. It's one of the best baseball trainers for 3 year olds. Just let her prop the baseball on the adjustable tee and let her have a swing at it. In no time at all, she'll be the next big name in women's baseball.
Benefits – Being involved in sports is fun for both children and adults a like. Get your angel prepared early on with this Little Tikes Tball toy set. It's perfect for strengthening her coordination and building her skills for her successful athletic days ahead. It's also perfect for spending quality time, as it's ideal for playing a few games of catch or simply hitting the ball from the tee. This alone will also assist in strengthening her hand & eye coordination, as well as teaching her social skills as this is perfect for playing with other little ones in her age group.
What We Like about It – It helps in strengthening arm muscles. Great for enhancing hand-eye coordination and balance, too. Not to mention, it's easy to set up and store.
Pros
Stores easily
Adjustable height
Perfect size
Not too challenging
Can be used as they grow
Cons
Not very steady
Bat breaks easily
Barbie Tough Trike by Fisher-Price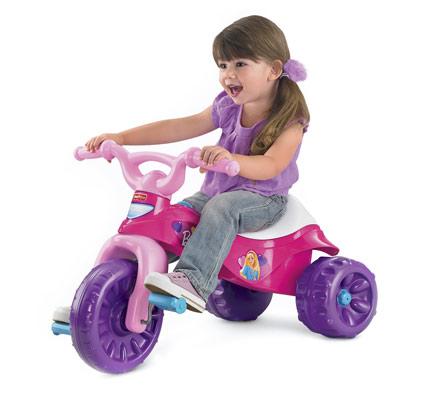 With 2 large rear wheels spread in a wide wheelbase, your 3 year old girl will love taking the Barbie Tough Trike for a spin around the neighbourhood. This pink-bodied, purple-wheeled trike comes with a secret storage compartment underneath the comfort seat, large pedals, and an easy to grip handlebar. Turning the ignition on emits an audible click for more realism.
Benefits – The Barbie Tough Trike is the perfect toy to help your little one explore the world around her. By allowing her to explore, you're ultimately fostering her imagination which is important for every child of any age group. It's not only perfect for  assisting in building her motor skills as well as coordination, but it also helps to build her character. She will learn to take initiative and will also develop independence.
The Barbie Tough Trike allows a young three year old girl to develop their balance and coordination skills. Pedaling the trike requires coordinating foot movement, while steering requires coordinating hand movements.
What We Like about It – It's perfect for strengthening the muscles of the legs and arms. It also enhances balance and coordination while encouraging imaginative play.
Pros
Easy to handle
Stable
Durable
Provides safe exercise
Cons
Wheels come off easily
Pedals may be hard to reach
Touch and Learn Activity Desk by VTech

If you want a desk for your three year old girl that can function three different ways, then give her the Touch and Learn Activity Desk. It is an interactive desk that can be converted into an easel for paintings and caricatures and a chalkboard for writing and doodling. It plays more than 20 songs and melodies. It features double-sided cards that teach kids about letters and numbers and a whole lot more including more than 160 words. Its LED screen allows kids to copy letters and numbers in a step-by-step manner.
Benefits – The VTech Touch and Learn Activity Desk is great for nurturing a three year old's creative side while also helping them to learn their alphabet and numbers. This is a great toy for the young scholastic child.
What We Like about It – It's a multifunctional interactive learning activity center in a desk. It helps enhance kids' language skills while stimulating further brain development as well as fine motor skills.
Pros
The colors are really fun to work with while learning
The sounds are easy to hear
Really does teach kids the alphabet
It is made out of high quality durable plastic
Cons
Legs on the seat may become wobbly after good use
Scribble and Write by LeapFrog

Kids need to learn how to write as early as they can. With the Scribble and Write, any three year old girl will have the opportunity to make accurate strokes of lines to write letters and numbers. The large display lights up with the letter or number and all the kid has to do is to trace the lighted pattern. Doing this repeatedly can help her master the strokes.
Benefits – Teaching your baby girl to write early on has endless benefits. First she will be ahead of the curve, and will have already developed great writing skills. This is turn will only make learning to read a breeze as reading and writing go hand-in-hand. A strong foundation of reading and writing will also begin to build confidence, and will stick with her throughout her school years. Great writing skills also helps with learning to spell, and understanding punctuation and other areas of writing.
What We Like about It – It's a unique way to develop kids' writing skills. It also helps in the enhancement of fine motor skills as well as hand-eye coordination.
Pros
Excellent learning tool
Builds penmanship
Lightweight
Provides various levels of learning activities
Builds spelling and writing skills
Cons
Stops working fairly quickly
Pink Shopping Cart by Little Tikes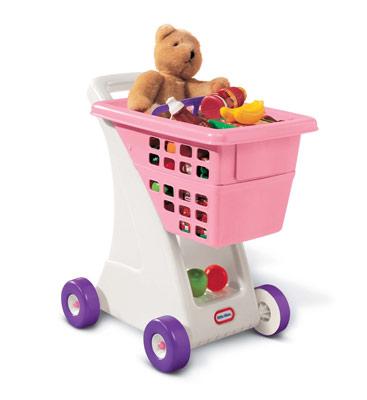 The next time you go to the grocery store, make sure to bring your little girl's own pink Shopping Cart. This realistic push toy comes with a shopping basket that is deep enough to hold almost anything your kid puts into it. She can even bring her favourite doll and ride along on the fold-down seat.
Benefits – This cute shopping cart will surely help your little angel feel like a big kid. Pushing this adorable cart around will not only help to make her strong by enhancing her gross and motor skills, but it will also assist in building independence. This awesome toy will also challenge her just enough as well as aid in tapping into both her creativity and imagination.
What We Like about It – Whether it's for make-believe play or actual grocery shopping, your kid will surely love this as ours had. It's great for encouraging imagination and creativity while enhancing motor skills.
Pros
Safe and sturdy
Very lightweight
Easy to assemble
Assists in developing motor skills
Cons
The wheels aren't tightly fitted
Parts may come missing
Pink Kidizoom Smartwatch by VTech

Everyone has a wearable technology nowadays. So, why not give your 3 year old the pink Kidizoom Smartwatch? It's got many of the cool features like a real smartwatch such as a 0.3 MP camera, a voice recorder, and educational games and apps. It also comes with an alarm and timer function in addition to its time-telling role. The video and pictures can be added with fun effects. Additional games can also be downloaded from the Learning Lodge of VTech.
Benefits – This watch is not only super cute but very valuable as well. Your little one can begin learning the concept of time in a very fun way. She will also enhance brain development as the watch comes equipped with games and various activities so she can stay entertained while learning, when on the go.
This Smartwatch will make your three year old princess feel special with their own watch. The watch will also start teaching them to tell time.
What We Like about It – It's one way to help encourage continuous learning among kids. It's great for enhancing imagination and creativity as well as language development.
Pros
Easy to use
Great quality
Very responsive
Fosters mathematical skills
Cons
The charger doesn't stay connected
The screen may freeze
Princess Cozy Truck Ride-On by Little Tikes

With its sturdy and unique purple frame, the Princess Cozy Truck Ride-On is sure to bring your 3 year old girl plenty of joy. The truck has a flatbed that comes complete with off-road wheels, drop-down tailgate, and a real-looking front grille. The steering wheel comes with a working horn. There's a handle on the roof for Mom and Dad to push the truck with.
Benefits – Help your angel discover a whole new world with this adorable ride-on by Little Tikes. Exploration is vital in order to foster your little girl's ability to imagine. This is also the perfect toy for play time as a family. You can push her around as she explores and seeks out new adventures.
What We Like about It – It's ideal for stimulating imaginative play. Also great for strengthening leg muscles and encouraging coordination and spatial relations.
Pros
Enhances gross and fine motor skills
Sturdy
Can use outdoors and indoors
Adjustable for controlled rides
Cons
Doors unlock easily
Tire rods may not be secure
Gears! Gears! Gears! by Learning Resources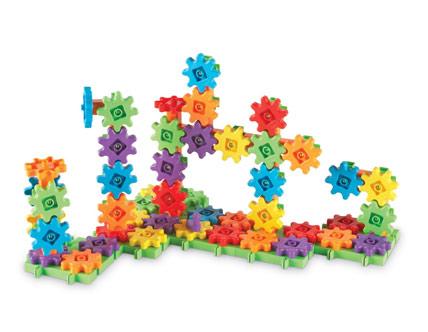 If you have 48 gears and 8 interlocking base plates, what can you build from it? Give the Gears! Gears! Gears! to your three year old and she will show you just how creative she can be. The construction toy set comes with gears, pillars, extenders, and 6-way axles to help any kid of this age to be as creative as they can be. The gears come in red, green yellow, orange, and purple colors.
Benefits – These wonderful color blocks by Gears! Gears! Gears! Are the ultimate learning tools. The cool building blocks will assist in your toddlers brain development as she creates anything she can imagine. The blocks are also great for enhancing fine motor skills, while also promoting creativity, reasoning, independence, and problem solving skills.
What We Like about It – Construction toys are renowned for stimulating problem solving skills as well as creativity and imagination. The Gears! Gears! Gears! is no different. Great for hand-eye coordination and fine motor skills, too.
Pros
Blocks are easy to assemble and take apart
Durable plastic
Promotes creativity
Can utilize at different stages of development
Cons
Some pieces may not come properly sized
Some pieces may be very sharp
Sparkle Mansion by KidKraft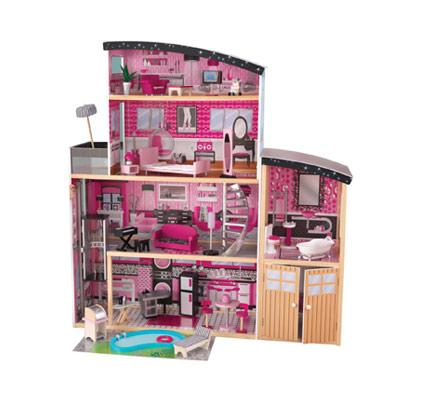 It's a 4-level beautifully-designed and marvelously-crafted dollhouse. That's what the Sparkle Mansion is. It comes with 30 pieces of very detailed furniture perfect for foot-tall dolls like Barbie. It includes all the different parts and rooms of a modern home. Standing at a little less than 55 inches, it can be quite taller than your average 3 year old girl.
Benefits – This beautiful dollhouse will be perfect for promoting your baby girl's creativity as well as her imagination. It's also ideal for developing social skills, as her friends can join in on the imaginative fun as well.
What We Like about It – The playset helps encourage creativity and imagination. Since it's large enough, it can help foster cooperative play and help develop social skills.
Pros
Easy to assemble
Great quality
Sturdy
Provides hours of play
Durable
Cons
Some parts may come missing
Dreamhouse by Barbie

Standing at a little less than 3 feet tall, the Dreamhouse is just right for your three year old girl. It is designed specifically for one kind of doll – Barbie. It includes more than 70 accessories and features a working elevator as well as highly interactive lights, motion, and sound effects. It even has Barbie's own bathtub.
Benefits – This stylish dream house is sure to keep your angel entertained for hours on end. She will be able to express her creativity in ways she never imagined all while enhancing motor skills, sparking her imagination, and challenging her thought processes.
What We Like about It – The playset is excellent for encouraging cooperative play as other children may also have their own Barbie dolls with them. This helps promote imagination, social interaction, and active role playing to enhance cognitive abilities of 3 year olds.
Pros
Easy to assemble and disassemble
Provides interactive play
Endless hours of play
Enhances motor skills
Cons
Some pieces may come cracked
(Hey! You May Also Like: 16 Best Doll Houses In 2016)
My First Purse by Kidoozie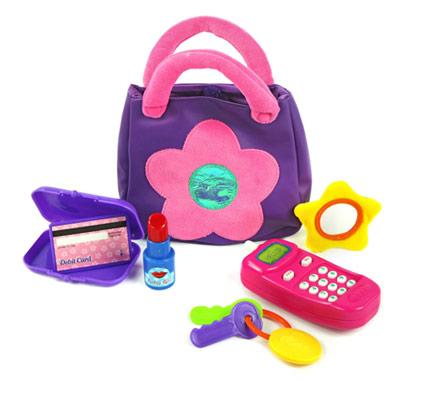 Kids love to carry with them their accessories and other girl-essentials. The My First Purse is one of the most popular gift items given by parents to their 3 year olds. It includes a purple bag that is beautifully adorned with a pink flower in the center. It also comes with a play smartphone, a make-believe lipstick, wallet and debit card, keys, and an unbreakable mirror.
Benefits – The My First Purse by Kidoozie is a wonderful addition to any 3 year old girl's toy collection. Not only is it absolutely adorable but it will help encourage her critical thinking skills and creativity, while also ensuring she's engaged and playing safely. This is also an ideal item for your little one because all the materials included in this set are toxic free.
What We Like about It – It's perfect for make-believe play which can help develop kids' critical thinking skills. It's also great for stimulating imagination.
Pros
Materials are safe and toxic free
Promotes independence
Encourages critical thinking skills
Engaging
All around fun
Cons
Items are not very durable
Duplo Creative Play Creative Ice Cream by LEGO

Aside from chocolates, everybody just loves ice cream. With the Duplo Creative Ice Cream, 3 year old girls can have a blast pretending to concoct their own mix of the best ice cream cones and bricks. The set comes with 3 cones, several Duplo bricks, 6 colored scoops of ice cream, and several pieces of brick toppings.
Benefits – This colorful ice cream will not only be fun visually for your little one,  but it will also stimulate creativity, strengthen motor skills, and keep her engaged. It's also great for bringing the family together which will only help build her confidence as she enjoys assembling fun flavorful creations.
What We Like about It – It helps enhance hand-eye coordination, fine motor skills, and spatial intelligence. More importantly, it's perfect for developing problem solving skills, creativity, and imagination.
Pros
Perfectly sized
Fun bright colors
Engaging
Sparks creativity
Great for various stages of development
Cons
Doesn't come with many pieces
Set doesn't include a storage container
Uptown Espresso Kitchen by KidKraft

Let your 3 year old girl bring her friends over so they can play with the Uptown Espresso Kitchen. This ultra-modern kiddie kitchen comes complete with a 4-burner stove, an oven, a kitchen sink with faucet, a dishwasher, a microwave oven, and a refrigerator. It also includes a play phone, pegs, and a cupboard for the ultimate in make-believe kitchen play.
Benefits – This amazing toy kitchen is small enough for your angel yet big enough to provide her with a real kitchen and cooking experience. From reaching and storing, to opening and turning, your little one can strengthen her motor skills at every turn. This set also promotes creative play as well as independence.
What We Like about It – Talk about role-playing, this is the ultimate. All doors open like the real thing. It's great for imaginative and creative play as well as for developing social skills. This can enhance the kid's different cognitive abilities.
Pros
Provides endless play
Very realistic appearance
Promotes creativity
Encourages critical thinking
Durable
Cons
Parts are not replaceable
Takes lots of time to assemble
(Hey! Like What You See? Then Check This Out: 20 Best Play Kitchens For Kids)
Tasty Treats Play Food Set by KidKraft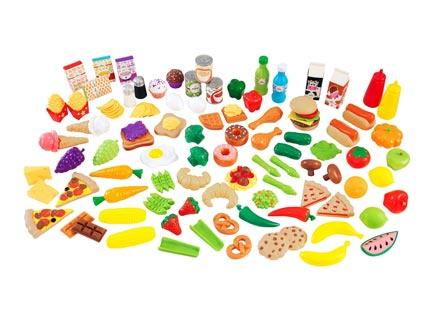 The earlier kids learn about different food, the better. With the Tasty Treats Play Food Set, you are helping 3 year olds learn about more than 100 types of food. This is an excellent expansion set for kitchen playsets. If there's none yet, these can be great for standalone make-believe plays, nonetheless.
Benefits – With a variety of color options and endless food items, your child's creativity will is guaranteed to excel. This food set will also assist in teaching her how to match, promotes critical thinking, and will provide endless room for her to explore her imagination.
What We Like about It – The play food items are quite realistic so it helps kids expand their vocabulary and enhance their language development. Moreover, the playset is effective in encouraging imaginative play. When shared with other kids, it's good for social development, too.
Pros
High quality
Fun colors
Very durable items
Encourages social skills
Promotes imaginative play
Cons
Made from very thin plastic material
Paint chips easily from the items
(Hey! Like This Product? Then You May Want To Read: 20 Best Play Food Sets)
Hop & Squeak Pogo Jumper by Kidoozie

Ever wonder why Tigger prefers hopping around like a kangaroo around the Hundred Acre Woods? Give 3 year old girls the Hop & Squeak Pogo Jumper and you will see why. The jumper's base is made of a highly durable yet soft and cushiony material. It can actually support even the weight of fully-grown adult not heavier than 250-lbs. Jumping around produces a symphony of sounds.
Benefits – The Kidoozie Pogo Jumper will not only provide an entertaining, safe, and fun experience for your toddler, but it will also strengthen her gross motor skills, balance, and coordination. She can have hours of endless play while constantly encouraging her physical strength and overall wellness.
What We Like about It – It's one great way to strengthen the core muscles of 3 year old girls. It also helps them master balance and coordination. Tons of fun, too especially if you try it yourself.
Pros
Great for kids of all ages
Engaging
Various color options
Promotes exercise
Safe
Cons
Not very durable
Foam base easily tears
Tea Set Basket by ALEX Toys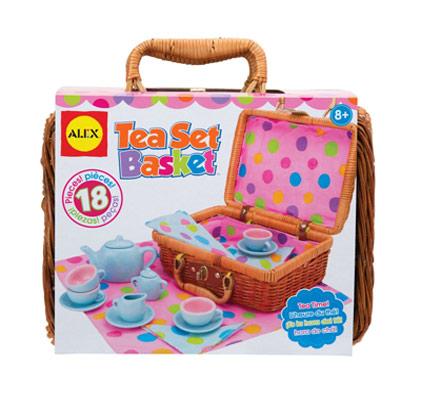 The next time you go out for a picnic, make sure to let your three year old girl bring her Tea Set Basket. This is especially true if she has siblings or has decided to bring her friends along. The set comes with a beautiful wicker basket, a porcelain teapot, sugar bowl, creamer, and 4 sets of tea cups, saucers, and napkins. It comes with a tablecloth, too.
Benefit – This charming tea set is the perfect addition to any picnic. She can invite friends to play and also develop a sense of independence, when setting up items within the tea set.
What We Like about It – It encourages realistic role-playing among kids. While the manufacturer says it's recommended for 8 year old girls, many parents find it very helpful in teaching their 3 year olds the joys of picnicking and tea drinking.
Pros
Encourages imaginative play
Builds social skills
No assembly required
Easy to store away
Cons
The paint chips very easily
Little Hands Button Art by ALEX Toys

Toddlers and preschoolers are very active tots. Giving them the Little Hands Button Art set should keep those hands very busy and those minds very creative. The art set includes 46 differently colored buttons that can be snapped onto 10 colorful images. It already includes a storage tray to hold everything together. 
Benefits – This toy is sure to keep your toddler on her toes. Vith it's bright colors and various pictures she can explore her creativity with each piece of art. This toy set will also encourage her to think critically while strengthening hand-eye coordination and motor skills.
What We Like about It – It helps foster creativity and imagination. Moreover, it's perfect for enhancing their spatial intelligence, fine motor skills, and hand-eye coordination. Great for color recognition, too.
Pros
Sparks creativity
Fun colors
Educational
Encourages independence
Cons
Richard Scarry's Busytown, Eye Found It by Wonder Forge

It may look like an ordinary board game but unfold the Richard Scarry's Busytown Eye Found It board game and you will be surprised with 6 feet of colorful mazes, 3 sections of activity areas, and literally hundreds of things to discover. It comes with all the accessories your 3 year old girl and her friends will ever need to find their way in this metropolis-in-a-board kind of puzzle-meets-search toy.
Benefits – This game will be perfect for enhancing brain development in your toddler. While having fun identifying and solving mysteries she will also sharpen her attention to detail,  as well as matching skills. This is also ideal for promoting teamwork as this is an activity she can enjoy with her friends.
What We Like about It – This board game is literally littered with a lot of exciting things to find. It's great for encouraging 3 year olds' exploration. They will need their concentration and focus. This also helps with language development and can help facilitate social interaction.
Pros
Perfect for family time
Challenging
Assists in brain development
Encourages social skills
Cons
Some pieces may come missing
Trampoline by Little Tikes  

Too bad it can only support up to 55-lbs or else you would be jumping on Little Tikes' trampoline too. This equipment is made of high quality jumping surface in a sturdy metal frame. It also features a center handle bar for kids to hang on to while jumping on the trampoline. The equipment can only be used indoors, however. Find more great products like this in our article on the best trampolines.
Benefits – Perfectly sized for indoors, your child can enjoy endless fun while promoting wellness and staying healthy. This trampoline from Little Tikes is great for enhancing gross motor skills to keep your angel strong while she also increases coordination and balance.
What We Like about It – The trampoline is an excellent way to help 3 year olds strengthen their leg muscles while enhancing their coordination and balance. It also encourages them to be more physically active in a more fun way.
Pros
Short assembly time
Sturdy
Provides safe fun
Durable
Cons
Criteria Used to Evaluate The Best Toys for 3 Year Old Girls
Your baby girl has officially entered 'toddlerhood' and you're super excited because your little one is growing up and entering into a new stage of her life. But becoming a toddler is actually a pretty huge deal. This means your little angel is developing and growing more and more, which also means it's time for her to be introduced  to the world of learning. But how do you go about starting this new venture? You choose toys that will not only make her excited about learning, but more importantly that will assist in her understanding and soaking up the information. Because as you know, the right toys are crucial in your child's development. These learned skills are essentially setting the foundation for her future, for years to come.
Select toys that keep your little one moving
It's vital to pick toys for your little angel that will keep her active. Not only for her health now, but for her health and well-being later on in life. Toys that keep her on the move such as tricycles, bouncy balls, and even sports activity sets, can all greatly assist in building her strength and ultimately provide great exercise, enhanced skills, and good long-term health. These include:
Scooter
Mini basketball goal set
Hop balls
Swing sets
Include toys that will help them explore their imagination
Toys that will help to ignite your child's imagination are not only fun but very important. These activities that push your little one to imagine, will open up doors to their creativity. Whether it's pretending to be a chef with a kitchen play set, or creating a rocket launcher from blocks, your child's imagination is a very precious area of her mind that should be fostered as they continue to grow. This will also help her to build problem-solving, literacy, language, and logic skills. These include;
Magnetic blocks
Play cutlery and kitchen sets
Animal figurines
Play-dough
Dollhouses
Choose toys that your child can continue to use as they grow
Toys that will grow with your child  perfect as they can continue to enhance her progress throughout various stages of her development. Seek out toys that will continue to keep your child engaged, hands-on, and eager to learn more. This will only spark their curiosity for learning more and more as they grow. These include:
Books
Puzzles
Dress-up dolls
Building blocks
Dollhouse
What Determined The Top Toys in Our List
If you think choosing the correct toy for a 3 year old is easy, we can assure you it isn't necessarily so. This is especially true if you don't have a clue as to what three year old girls really need in relation to their growth and development. Not to worry because we have already done the more arduous task of shortlisting the thousands of toys currently sold in retail outlets today.
We have researched on the top-selling, most popular, and most talked about toys for three year old girls. However, popularity alone does not guarantee inclusion in our list as we also have to consider the developmental appropriateness of the toy – whether it will be helpful in the promotion of the continuing growth and development of children. Additionally, we also had to look at the safety and quality of the design as well as the reputation of the toy maker. Of course, we had to read the countless feedbacks and customer reviews regarding these toys.
Factoring all of these together, we have shortlisted 20 of the best and most appropriate toys for any 3 year old girl. We can guarantee you and your little princess will love these.
Little Princesses after 3 Years
Did you know that your 3 year old little princess is now able to play with other children of her age in a more cooperative manner? By their third year, they will already know the value of taking turns, of sharing, and, of course, of the importance of teamwork. This helps them feel more comfortable about their own skills and interests. It also helps them communicate better as they learn different words and phrases from each other. It is through cooperative play that three year old girls will be able to develop their social skills and at the same time develop their language and communication skills. This helps promote self-confidence and self-esteem in the young child. That is why it is often advisable to provide toys that allow them to play with other children. The integration of language-building components into the toys can also help in this regard.
Another way to boost their self-confidence is by giving them plenty of simple activities which they can perform and master easily. Toys that help reinforce these activities can also help improve self-confidence as well as their ability to focus and concentrate on the task at hand. Toys that have plenty of things to be manipulated like levers to pull, buttons to press, and instructions to follow are particularly beneficial. Also important are interactive toys because these reinforce their understanding of cause and effect relationships.
Now, 3 year old girls may be able to concentrate and focus on a particular task but this doesn't mean that they don't easily get bored. Their attention span is still pretty much short. That is why it is crucial to choose toys and activities that they are really interested in. These toys, gifts, and activities must be able to sustain the interest of 3 year olds so they won't get bored.
Speaking of interests, three year old girls will already have a variety of things that they can be particularly interested in. This is fueled by their increased curiosity in objects, events, and phenomena as well as anything else their minds can think of. That is why their favorite question will always begin with a "why". It can be annoying but you should resist the temptation of disregarding these why questions as they are the kid's way of learning about things she is particularly curious about. They are exploring the world around them and the why-questions are their primary means of making sense of the world.
The greater understanding they have of the world the more adept they become at creating things. Creativity and imagination can be fostered if children understand how certain things work and why certain events occur. Additionally, creativity can also be encouraged if you give them toys that promote such skills like clay toys, glitter toys, art materials, and craft kits.
This is also made possible by the continuing development of their gross and fine motor skills including hand-eye coordination, balance, and spatial intelligence. These also allow them to explore everything around them even things that we adults consider gross and repulsive. They can run, climb, jump, hop, and use the stairs quite competently.
In simple words, your 3 year old girl is a very active explorer. As such, it is crucial to give three year olds toys and playthings that will encourage the promotion and continuing development of their psychomotor, cognitive, emotional, language, and social skills.
It is with great optimism that our list of the 20 best toys for 3 year old girls will help you in this respect.
FAQ
Frequently Asked Questions
Q: How challenging is too challenging when it comes to toys?
A: You never want to over challenge your toddler before they are ready. You want to give her toys that suit their age rage as they come that way for a reason. The purpose is to assist in enhancing the stage of development she is in and overall preparing them for the next stage. So age appropriate toys are always best, those that will challenge her curiosity and require her to think but not make them uninterested because it's too complex. For example ABC books with voice interaction, simple puzzles, or blocks are all great for your toddler. They both have the ability to keep your child engaged, while also stimulating her thought processes without becoming too complex.
Q: Will any of these toys actually help my toddler develop and grow?
A: Yes; All of these toys embody qualities that will help foster your child's advancement. Throughout this list, it's guaranteed your toddler will develop in many aspects as these toys were carefully chosen to ensure they do so. They will have enhanced reading, problem solving, language, math, and even social skills. All in all, she will be more than prepared for an amazing and bright future set for years to come.
Q: What toys are best for strengthening my toddler's fine and gross motor skills?
A: Fine motor skills and gross motor skills are the core of your little one's physical development. Gross motor skills involve the coordination and movement of the arms, torso, legs, and feet. These skills are what help your child in activities such as to sitting up and rolling over. They also are what assists in your child's physical strength later on when they participate in activities such as swimming and running. Fine motor skills are the smaller coordinated movements such as hand, eye, and finger movement.
These skills are used when your baby picks things up, eat, or even later on when they learn to write. Toys that encourage and enhance fine motor skills include blocks, wooden toy cars, puzzles, and magnetic toys. All of these can strengthen their grip, coordination, and overall movements. Toys that enhance gross motor skills include tricycles, scooters, and bouncy balls.
Q: How do I choose toys that will help every developmental stage?
A: There are lots of toys that you can continue to use as your little one grows throughout toddlerhood. This is really great because often times as kids become aware, they aren't ready to quite let go of their favorite toys and memories. Some toys they will outgrow but others she can continue to use that will steadily help her on her journey of growth and development.
These toys include: books, building blocks, dollhouses, mini swing and playground sets, puzzles, and legos. Another added benefit of purchasing toys that can provide long-term or extended use is it helps you to cut back a bit on spending, ultimately keeping a smile on your little one's face and helping you to save money.
Q: What are some long-term benefits of toys in terms of development?
A: Your child playing with toys not only helps to enhance their physical development, it can also help her in other aspects of their lives. These learned skills can help your angel throughout both school years and adulthood. For example, when your little one is playing with building blocks, she isn't just making her motor skills stronger.
She is also exercising visual-spatial awareness, which is needed when learning to read and write. So, she's ultimately preparing herself for the academic areas of her future. Some toys can also help with building character such as teaching your little one patience. Others can assist in building confidence and teach them independence by encouraging thinking and problem solving.
They will also have an intro to certain subjects like science and math. When creating or building things they learn about how certain objects work and why. One of the main aspects however that toys helps your toddler in terms of development, is assisting in building social skills. When your child plays with others, they learn to share and also how to work and cooperate with others.
Q: Is my child's toy too distracting?
A: While toys that come equipped with all the bells and whistles seem to be the most exciting for children, they are usually not the best for development. This is because these toys can essentially disrupt your child's learning process due to too many flashing lights, and background noise. Your child won't be challenged as they won't be forced to think, create, or imagine.
All of the work is done for her which will only leave your child merely entertained in the end. It's best to keep it simple when buying toys for your toddler. If however you decide to give her something that includes flashing lights or loud sounds, be sure that the toy itself is still interactive enough that she will have the ability to think clearly, and absorb the information.
Other Age Ranges
1 Years Old
2 Years Old
4 Years Old
5 Years Old
6 Years Old
7 Years Old
8 Years Old
9 Years Old
10 Years Old
11 Years Old