To say that man has always wanted to fly is a gross understatement. He has always been fascinated by the things, especially the other living creatures, around him. That's why man wants to swim like the fish and fly like the birds or even run as fast as an antelope or even a cheetah. The point is that man's pursuit of happiness has its inspirations from the things around him. It is no wonder then that this spirit of adventurism is well ingrained in the DNA of future generations that even kids will dream of flying even while they are still very young. You can cultivate this love of flying by giving them childrens kites for starters. Once they've mastered the art of flying a kite, then they can progress to remote controlled aerial vehicles before going on to pilot a real plane. It takes time, we know. But that's the whole point about development. You have to start simple. And you can start this with our top 10 kite kids will surely love.
Our Top 3 Picks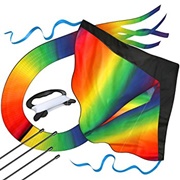 Huge Rainbow Kite For Kids

Our rating
Easy To Fly
Price:

See Here

Hengda Kite for Kids

Our rating
31 Inches Wide
Price:

See Here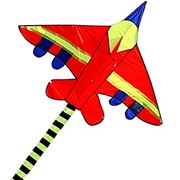 Hengda Kite Long Tail

Our rating
Flies Steadily
Price:

See Here

Huge Rainbow Kite For Kids
Age Range: At least 3 years old
Hengda Kite Red Octopus Easy Flyer
Age Range: At least 10 years old
Hengda Cartoon Fighter Kite
Age Range: At least 10 years old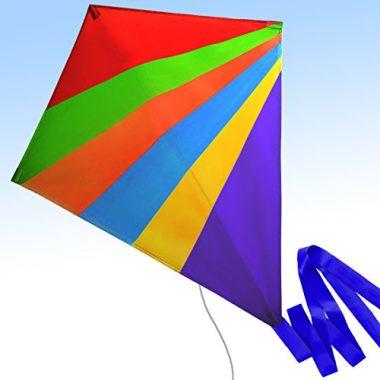 Age Range: At least 3 years old
Age Range: At least 3 years old
Diamond Rainbow High Flyer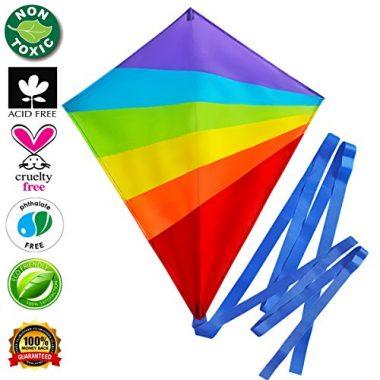 Age Range: At least 3 years old
Impresa Products Rainbow Delta Kite
Age Range: At least 5 years old
aGreatLife Sweet Ice Cream Kite
Age Range: At least 3 years old
Age Range: At least 3 years old
3D Dolphin Frameless Beach Kite
Age Range: 5 to 10 years old
Criteria Used in Evaluation of The Best Kites for Kids
Kites can be gifted to anyone for almost any occasion, and depending on the locale, can be used anytime of the year!  One aspect we had to consider was, and is, the variety of kite-flying experiences!  What kite fits the personality of your kid or kid-at-heart?!  The beauty of this is it can range from the traditional diamond shape with cross-frame, to the frameless beach parafoil kites!  Themes are abound, as well!  When I think of the classic diamond design, I may think of something in plain white with one or two white streamers and a simple old spool of string.  Nothing wrong with it, and I'm sure there's still something like it on the market!  But, I can have the same design, but with rainbow colors and rainbow streamers!  I can have it with a fiberglass frame and treated ripstop nylon so I can keep it for years and years!  It doesn't stop there!  I can get an animal themed kite to reflect the landscape!  Beaches love Dolphins and Squid and Jellyfish!  When there's just a light sea breeze and you're lazin' around taking in the sun!  Even an ironically-themed Batman kite to bring to a festival — we have it for you!
With 3D technology and engineering, it's easier than ever to get a high quality flight-worthy kite!  There is both a massive variety of prices and experiences!  We made the best choice, so that you could make the best choice!  And, this is only a beginning, a taste!  As time goes on, you as the customer can always find more, improve on the choices and help us to improve on what we can offer!
BASIC RESEARCH
We all know that we live in a Smartphone, Ipad, Android, Laptop and Desktop society!  The idea of being social now has almost become inseparable from the word "media".  Everyone is susceptible to this, but the ones to be the most influenced by it are children.  With our world become ever increasingly convenient and our lifestyles becoming easy and sedentary, getting physical activity and staying sharp mentally are more challenging and effortful.  Our natural tendency is to be social — and everyone is going along with the trend!  Exercise and physical activity has to be scheduled like everything else within the day!
With rates of obesity and depression going up due to these lifestyle choices, health is becoming an even more major concern.  These are some of the issues that spurred on our research into kite-flying as a simple activity that can possibly counter the negative effects of our fast paced internet screen time culture.  In fact, the CDC has reported a direct correlation between extended periods of screen time and depression.
Almost nothing is simpler than flying a kite!  It's something that's easily shared and can bring focus and purpose to a child's life!  This can be through family bonding; buying a kit and building a kite together, reading the instructions, following direction.  It can give the feel of nature by understanding the play of wind and other natural forces.  More importantly, it gives direction and focus to a young mind in an increasingly information rich and scattered world!
What Determined the Amazing Children's Kites in Our List
One of the most important aspects of choosing a kite kids will appreciate and learn to love is its ease of flying. It is very important that the flying toys that we include in our list are easy to get airborne, control to stay up in the air, and easy to retrieve. In short, it should be very easy to fly and store.
Next, since airplanes crash no matter how sophisticated they may be, it is inadvertent that kites will experience some errors or failures in flight as well. It is imperative that the kite kids in our list should be sturdy. We looked for signs of sturdiness and integrity of the structure and overall built of the kiddie flying object so that should it crash you will not be asking your neighbors or your friends to ask where to buy kites for replacement.
Speaking of where to buy kites, it is also crucial that obtaining one is easy whether you're in New York or in some remote village in another part of the world. The point is that these childrens kites must be made available to you and your children anytime you want to order them and from anywhere you may be in the country or, perhaps, even in the world. So, we had to look at these, too.
A company's reputation can speak a lot about the quality of the products that they put out in the market. This is especially true for companies that have been in the business for a very long time. If an organization is not doing it correctly, it won't last long in today's highly competitive world. As such, we also looked at the overall credibility of kite manufacturers and then compared it with the general sentiment of readers and users about the product. Plenty of negative feedback don't sit well on the reputation of a company.
While kites are not really the first pick for toys especially this Christmas, we are nonetheless hoping that our top 10 kite kids will bring some form of guidance for those who would like to buy. Now, the only thing you have to ask is where to buy kites, especially the ones we have listed in here.
Benefits of Flying Kites among Children
We are all familiar with the annual international competition among kite flyers where everyone gets to showcase their skills both in the design and actual flying of these toys-for-all-ages. But what if you are not entering a competition? Is there any benefit especially among children? Here are some of the benefits of flying kites among kids.
Encourages physical activity – This is perhaps the most important benefit among kids. At least, they will have to run against the wind to help launch the kite into the air. They will also have to make sure that they have excellent motor coordination and a sense of balance to make sure they won't trip or fall while launching their kites.
Improves social interaction skills – It is entirely possible to fly a kite alone but kite-flying has always been known to be a social activity. By encouraging children to participate in such activities, they get to interact with other children of their age as well as adults who are fond of kites, too. These can greatly improve their social relationship skills.
Enhances creativity – If your kid will be creating or building his or her very own kite, it will be a worthwhile endeavor. This can help enhance his or her creativity while also extending the limits of your child's imagination.
Fosters mindfulness – When we say mindfulness, it is being aware of one's immediate surroundings at all times. Kite-flying can help introduce this concept to children as they attempt to fly their kite, be aware of changes in the wind's speed and direction, and the presence of obstacles everywhere such as trees, potholes, tree stumps, rocks, and a whole lot more. This enhances situational awareness or mindfulness.
The Bottom Line
Kite-flying bonds families. With our top 10 kites for kids, we're pretty confident you have chosen one to help glue the ties of your own family.
FAQ
Frequently Asked Questions
Q:  Do these kites require a lot of assembly like a traditional kite-making kit?
A:  No, in fact the ones that we offer are surprising simple and easy to assemble!  There is some light assembly for the Easy Flyer Model, The High Flyer, Great Life, and Sweet Life kites.  But, when we say light, we mean light!  It's just a matter of fitting together the framework of the spine into the fabric.  As far as the other kites are concerned there is even less assembly!  The Hengda octopus kites are 3D constructed and easily replaceable; and, the Dolphin parafoils simply roll out, as is!  Even with the traditional diamond shaped kites, it should be less than five minutes, then snap on the cord and get ready for launch.
Q: If I buy a longer spool of cord and fly the kite higher, will it damage the kite?
A: That's a really good question!  There are a few products that state very clearly the altitude limitations on them.  That being said, the limitations are stated, then they offer a shorter cord!  All we can say is "Go for It!"  When it comes to testing the limitations of these kites in a way, well, that's what you bought the kite for!  First off, know your product — if it's made of cheap fabric, then probably don't risk it!  After that, if it say that it goes an altitude of 200ft then you only get a spool that goes too 100ft, then switch it out!  Shoot for a 300ft spool if you're feeling so adventurous!
Q: You mentioned Kite festivals and competitions, how easy is it to participate in these?
A: Super easy!  There are at least 23 kite festivals known of worldwide!  There are a number of lists of festivals in the states!  Pretty much all major cities in the US have an annual kite festival, usually held in the springtime!  Also, there are many parks in that are solely dedicated to kite-flying, as well as beach communities that engage this activity in conjunction with surfing and sailing!  A few links are included in the Sources Section to direct to where these activities are taking place!
Q: What difference does a fiberglass constructed frame make to other materials?
A: We want you to profit the most out of your investment in a kite!  When you buy a car you want it to be safe and somewhat indestructible!  Same when you buy a house or a boat!  So why not other things that you put your money into?  We all know that crashes are inevitable!  With things like cars, boat and houses, when there's an accident, we have insurance to cover it.  With an item like your kite, there may be a warranty, or you could get a refund within the 30 day allotment.  But before we even get to that, why not have the guarantee for security and strength up front.  The difference is in durability when it comes to those inevitable crashes when a kite must come down.  Fiberglass has been used in the aerospace and automotive industries for decades now, and we just want to insure that you receive the same kind of quality guarantee!
Q: What would be the best beginner's kite for a child?
A: It would probably be one of the Easy Flyer models or the High Flyer!  All of them are light enough for a child to launch on his or her own without too much adult supervision.  Also, the assembly for the diamond designed kites is fairly easy so it can be a team effort between parent and child!  The Soft Octopus high flyer has no frame whatsoever, so it just may only require a few steps back on a windy day to set sail!  With an easy roll-up function, children even as young as six can master and maneuver it with ease!
Q: Are all these kites child-sized or do the dimensions also allow adult usage?
A: All of these kites can be pretty much be used by adults!  In fact, it is the opposite that tends to be the case!  Many of the dimensions of these kites are long and wide for a child to able to handle and launch all by themselves!  While all of the kites can be considered cross-generational, some may be a little more driven to children, others to adults, and vice versa.  For instance, it's easy to see a kite like the Batman logoed Bat as something that can easily appeal to young adults and teens.  Whereas the Ice Cream Coned theme kite, is something that a kid might get more pleasure out of.