Kites are an ancient toy and tool that have been teaching children about the nature of wind for over one thousand years. With all the complex gadgetry and toys that kids typically obsess over in this modern age, it can be hard to get them grounded in reality and interested in the way the world works.
This is a great reason to introduce older, more simple toys into the collection that your child is almost certainly amassing, and kites are an exceptionally interesting toy that will encourage your child to spend more time outdoors and teach them fundamental things about wind and its changing patterns throughout the year. A kite is also a great tool for connecting your child to history, helping them to imagine the mindsets of ancient children in various distant cultures, playing with basically the same toy.
We've selected and arranged some of the most vibrant options on the market today, choosing from the wide array of options to find you the best options for getting your child flying kites. Let your child choose their own style from the bunch, or surprise them with a gift for any holiday.
Our Top 3 Picks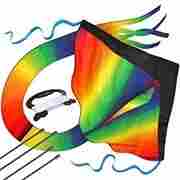 Huge Rainbow Kite For Kids

Our rating
Easy To Fly
Price:

See Here

Hengda Kite for Kids

Our rating
31 Inches Wide
Price:

See Here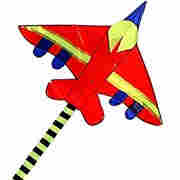 Hengda Kite Long Tail

Our rating
Flies Steadily
Price:

See Here

Huge Rainbow Kite For Kids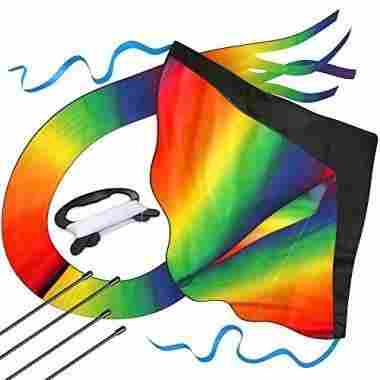 Age Range: At least 3 years old
Hengda Kite Red Octopus Easy Flyer
Age Range: At least 10 years old
Prism Snapshot Dual-line Parafoil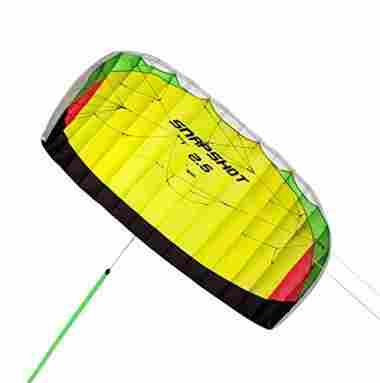 Age Range: At least 10 years old
Hengda Kite 15m Large Power Snake Kites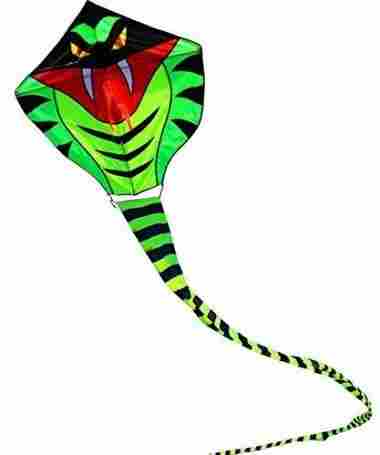 Age Range: At least 3 years old
In the Breeze Rainbow 62 Inch Sport Kite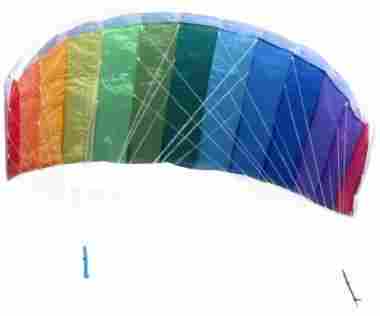 Age Range: At least 3 years old
Hengda Kite-Pack 3 Multi-Colors
Age Range: At least 3 years old
Impresa Products Rainbow Delta Kite
Age Range: At least 5 years old
Prism Stowaway Delta Kite
Age Range: At least 3 years old
Tomi Kite – Huge Rainbow Kite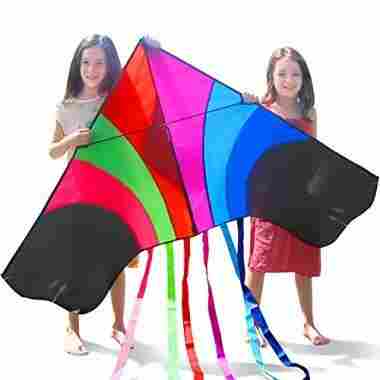 Age Range: At least 3 years old
3D Dolphin Frameless Beach Kite
Age Range: 5 to 10 years old
Best Delta Easy Fly Single Line
Weifang New Sky Giant Delta Ring
In the Breeze Rainbow 27 Inch Diamond
Brainstorm Dragon WindnSun 3-D Nylon
Prism Stowaway Diamond Purple Haze
Criteria Used in Evaluation of The Best Kites for Kids
Kites can be gifted to anyone for almost any occasion, and depending on the locale, can be used any time of the year! One aspect we had to consider was, and is, the variety of kite-flying experiences! What kite fits the personality of your kid or kid-at-heart?! The beauty of this is it can range from the traditional diamond shape with cross-frame, to the frameless beach parafoil kites! When I think of the classic diamond design, I may think of something in plain white with one or two white streamers and a simple old spool of string. Nothing wrong with it, and I'm sure there's still something like it on the market! But, I can have the same design, but with rainbow colors and rainbow streamers! I can have it with a fiberglass frame and treated ripstop nylon so I can keep it for years and years! It doesn't stop there! I can get an animal-themed kite to reflect the landscape! Beaches love Dolphins and Squid and Jellyfish! When there's just a light sea breeze and you're lazin' around taking in the sun! Even an ironically-themed Batman kite to bring to a festival, we have it for you!
With 3D technology and engineering, it's easier than ever to get a high-quality flight-worthy kite! There is both a massive variety of prices and experiences! We made the best choice so that you could make the best choice! And, this is only a beginning, a taste! As time goes on, you as the customer can always find more, improve on the choices and help us to improve on what we can offer!
BASIC RESEARCH
We all know that we live in a Smartphone, Ipad, Android, Laptop and Desktop society! The idea of being social now has almost become inseparable from the word "media". Everyone is susceptible to this, but the ones to be the most influenced by it are children. With our world become ever increasingly convenient and our lifestyles becoming easy and sedentary, getting physical activity and staying sharp mentally are more challenging and effortful. Our natural tendency is to be social — and everyone is going along with the trend! Exercise and physical activity have to be scheduled like everything else within the day!
With rates of obesity and depression going up due to these lifestyle choices, health is becoming an even more major concern. These are some of the issues that spurred on our research into kite-flying as a simple activity that can possibly counter the negative effects of our fast-paced internet screen time culture. In fact, the CDC has reported a direct correlation between extended periods of screen time and depression.
Almost nothing is simpler than flying a kite! It's something that's easily shared and can bring focus and purpose to a child's life! This can be through family bonding; buying a kit and building a kite together, reading the instructions, following direction. It can give the feel of nature by understanding the play of wind and other natural forces. More importantly, it gives direction and focuses to a young mind in an increasingly information-rich and scattered world!
What Determined the Amazing Children's Kites in Our List
One of the most important aspects of choosing a kite kids will appreciate and learn to love is its ease of flying. It is very important that the flying toys that we include in our list are easy to get airborne, control to stay up in the air, and easy to retrieve. In short, it should be very easy to fly and store.
Next, since airplanes crash no matter how sophisticated they may be, it is inadvertent that kites will experience some errors or failures in flight as well. It is imperative that the kite kids on our list should be sturdy. We looked for signs of sturdiness and integrity of the structure and overall built of the kiddie flying object so that should it crash you will not be asking your neighbors or your friends to ask where to buy kites for replacement.
Speaking of where to buy kites, it is also crucial that obtaining one is easy whether you're in New York or in some remote village in another part of the world. The point is that these children's kites must be made available to you and your children anytime you want to order them and from anywhere you may be in the country or, perhaps, even in the world. So, we had to look at these, too.
A company's reputation can speak a lot about the quality of the products that they put out in the market. This is especially true for companies that have been in the business for a very long time. If an organization is not doing it correctly, it won't last long in today's highly competitive world. As such, we also looked at the overall credibility of kite manufacturers and then compared it with the general sentiment of readers and users about the product. Plenty of negative feedback doesn't sit well on the reputation of a company.
While kites are not really the first pick for toys especially this Christmas, we are nonetheless hoping that our top 10 kite kids will bring some form of guidance for those who would like to buy. Now, the only thing you have to ask is where to buy kites, especially the ones we have listed in here.
Benefits of Flying Kites among Children
We are all familiar with the annual international competition among kite flyers where everyone gets to showcase their skills both in the design and actual flying of these toys-for-all-ages. But what if you are not entering a competition? Is there any benefit especially among children? Here are some of the benefits of flying kites among kids.
The Bottom Line
Kite-flying bonds families. With our top 15 kites for kids, we're pretty confident you have chosen one to help glue the ties of your own family.
FAQ
Frequently Asked Questions
Q: How old should my child be to fly kites?
A: there is some variance in difficulty between different kites. Parafoil and dual-line kites are a bit more advanced and typically you might not want to let a child under thirteen fly them alone. But the most basic designs of kites can be easily piloted by toddlers under supervision.
Q: Do these Kites come with line and spools?
A: Yes, all of these kites include a string and spool.
Q: Does this kite come in another color?
A: Check each product individually, but almost all of the kites we've selected come with several color options.
Q: Where should I go to fly the kites?
A: Any wide open space outdoors and away from power lines will typically do, but public parks are a popular option for those who live in the suburbs or city. The beach offers the best conditions for flying, but not everyone lives near a beach!
Q: Can I fly these kites?
A: You can almost certainly fly any of these kites, but it might more entertaining for yourself if you choose one of the more advanced versions. You can then let your child upgrade to this more advanced kite when they get old enough and skilled enough to pilot it.
Q: What difference does a fiberglass constructed frame make to other materials?
A: We want you to profit the most out of your investment in a kite. When you buy a car you want it to be safe and somewhat indestructible. Same when you buy a house or a boat. So why not other things that you put your money into? We all know that crashes are inevitable. With things like cars, boat and houses, when there's an accident, we have insurance to cover it.
With an item like your kite, there may be a warranty, or you could get a refund within the 30-day allotment. But before we even get to that, why not have the guarantee for security and strength up front. The difference is in durability when it comes to those inevitable crashes when a kite must come down. Fiberglass has been used in the aerospace and automotive industries for decades now, and we just want to ensure that you receive the same kind of quality guarantee.
Q: What would be the best beginner's kite for a child?
A: It would probably be one of the Easy Flyer models or the High Flyer. All of them are light enough for a child to launch on his or her own without too much adult supervision. Also, the assembly for the diamond designed kites is fairly easy so it can be a team effort between parent and child. The Soft Octopus high flyer has no frame whatsoever, so it just may only require a few steps back on a windy day to set sail. With an easy roll-up function, children even as young as six can master and maneuver it with ease.
Q: Are all these kites child-sized or do the dimensions also allow adult usage?
A: All of these kites can be pretty much be used by adults. In fact, it is the opposite that tends to be the case. Many of the dimensions of these kites are long and wide for a child to able to handle and launch all by themselves.
While all of the kites can be considered cross-generational, some may be a little more driven to children, others to adults, and vice versa. For instance, it's easy to see a kite like the Batman logoed Bat as something that can easily appeal to young adults and teens. Whereas the Ice Cream Cone theme kite, is something that a kid might get more pleasure out of.