The name Tech Deck is interchangeable with the terms fingerboards and skateboards, but Tech Decks are very different in several ways. Tech Decks are a brand name of a more sophisticated fingerboard that is an exact replica of a regular skateboard. The graphic designs are the same as the original skateboards, but just in a miniature form. They have tiny wheels, trucks, bearings and graphic designs much like the originals. Here we highlight the Tech Decks and ramps that are currently the most popular. Just like normal-sized skateboards, these miniatures are capable of tricks and stunts performed by the fingers. Thus, manufacturers created tiny skateparks and ramps to accommodate this sport. The best of these ramp and park sets are listed here as well. Tech Decks were initially created as toys for kids, but they have also become collectors' items and visual aids for professional skateboard riders. The fingerboards are used to practice and exhibit maneuvers on video before trying them on a regular-sized skateboard. Because these tiny wonders have so many uses they are immensely popular and in high demand.
The largest, positive affect Tech Decks have on children is that they greatly enhance their fine motor skills in the mode of finger dexterity. Good finger skills are needed for adequate hand-eye coordination activities, such as writing or drawing. As these skills grow, children become more independent and confident in their capabilities. Tiny skateboards for the fingers can speed a child along his or her way to assertive agility in no time at all. Tech Decks are also fantastic for handicapped children or those that are not able to ride a regular skateboard outside. They can practice the same skills with their fingers and miniature boards and have just as much fun. These boards have been known to benefit hyperactive kids immensely because they keep the mind creative and the fingers occupied. For their many fabulous qualities and advantages, we just love these tiny skateboards. Here are the best-reviewed Tech Decks and ramps for kids in 2018.
The Best Tech Decks and Ramps Reviewed in 2018
Transforming Container with Ramp and Skateboard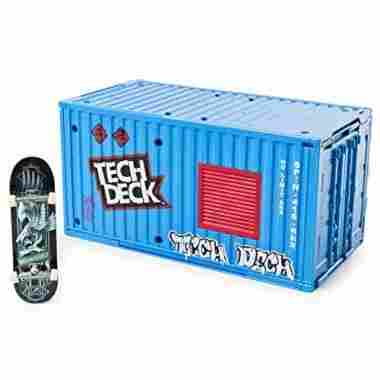 Spinmaster Tech Deck Build A Ramp Playset Table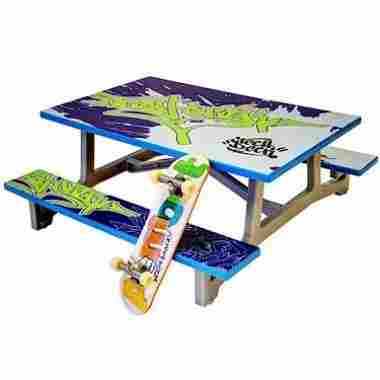 Tech Deck – Sk8shop Bonus Pack
WayIn® 5pcs Skate Park Kit for Tech Deck
Hometall 5PCS Skate Park Kit for Tech Deck
Kidsdream® 8pcs Skate Park for Tech Deck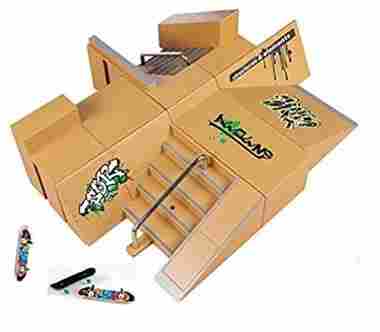 Tech Deck – SLS Pro Series Skate Park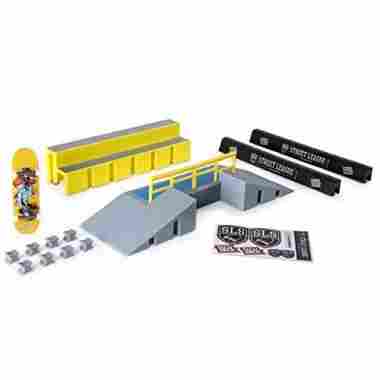 Robolife Skate Park Kit for Tech Deck
Mini Skate Park Ramp for Tech Deck # E
Tech Deck 96mm Competition Series Single Set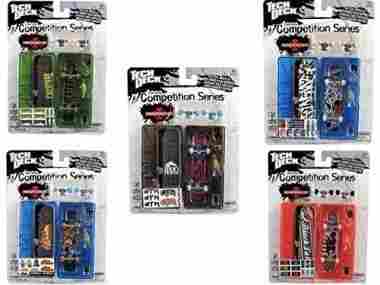 Criteria Used in Evaluation of the Best Tech Decks and Ramps
Fine Motor Skills – Finger Dexterity – Confidence – Independence – Self- Esteem
Tech Decks are a wonderful exercise for the fingers and mind. Fine motor skills improve a child's coordination with other activities and help build self-esteem and confidence. All physical activities, no matter how small they are, greatly increase a child's ability to function well. The simple manipulation of a finger skateboard not only benefits the fingers and muscles but also the mind. With the ramp and step set-ups available, kids must assemble, arrange, and use these props to do the tricks and stunts with the fingerboards. Their imagination abilities are utilized greatly to do this because the ramps come in several pieces that can be arranged and combined with other groups of props in endless groupings. This is why these toys make wonderful items for hyperactive kids to play with because the participation by the individual is happening at several levels.
Replicas of Real Skateboards with the Same Features and Parts
The Tech Decks are the best miniature duplicates of the regular full-sized skateboards, even though all of the fingerboards are tiny versions of these original toys. The graphics are really identical to the larger ones and the parts are the same, just in the smaller form. They must be assembled upon receiving, and they have trucks, wheels, and boards similar to the others. The boards are even ridden the same way as one would ride a big skateboard, except with just two fingers for "legs."
The only main difference between these boards and the real skateboards is the fact that the miniatures do not have bushings in the wheels. This prevents the trucks from tilting and thus takes away a good bit of the mobility of the boards. The wheels and trucks are so tiny and all ready to put together that it would be very difficult to assemble these with bushings too. The same stunts can be performed, however, with ramps in the appropriate sizes. This is why these tiny fingerboards are used in planning and executing professional skater movements for their larger counterparts. They are that parallel in design.
Appropriate Age for Fingerboards
It cannot be stressed enough that these should not be assembled or used by very small children under the age of six. The question of age is the most asked question about these toys because young kids want to play with them. They see older kids with them and they want them too. Because they are so small assembled or in parts, they pose a huge choking hazard if swallowed. Toddlers love putting everything in their mouths and this is most dangerous with these fingerboards. The fully-assembled board is only a few inches in length, so they can still be swallowed, even by a small child. Most manufacturers state that kids under six should not be playing with these fingerboards. This is a good guideline to follow for the utmost safety.
Miniature Vs. The Real Thing
As with any other wheel-based activity, parents will always be nervous about sending their kids out into the world on a set of wheels. This is a fear that follows them all the way up until they're at the appropriate age to drive a car and is something that's naturally and perfectly understandable. The big question when it comes to miniature skateboards and tech decks is this: Why would you want something much smaller rather than the real thing? The answer is simple, and it has everything to do with age, learning abilities, and skills. Full-sized skateboards are fun for kids who are super active and enjoy aggressive street sports, but sometimes kids prefer something a little less intense. Fingerboards are the perfect way to give them a taste for the skateboard life while also helping them improve dexterity, hand-eye coordination and, yes, "skateboarding" skills. They can learn how to do tricks with fingerboards just like they would with a regular skateboard and never need to leave their own backyard to do it. In addition, the popularity of tech decks and ramps for fingerboards has grown to the point where it's considered a legitimate pastime for preteens and teens. While they might not be able to have a skateboard ramp in their backyard, they can definitely have one on their living room floor or on their backyard deck. This also serves as a great way for them to figure out if they actually enjoy skateboarding since many mini boards are now modeled after the real thing. Needless to say, parents can rest easy knowing their kids, who might be too young still for a skateboard, are using fingerboards and not the real thing just yet.
Determining If It's A Good Gift
Many parents might be lost when it comes to knowing all about fingerboards, which is why we've taken it upon ourselves to be "in the know" for you. The mini skateboards have been around since the 80s and became increasingly popular in the 90s, and have just evolved since then. You might be asking yourself whether or not this is a good gift for your child, or if he or she will just get bored within five minutes and move on. The reason fingerboards are so popular is because they're a way for kids to connect without needing to have a full-sized skateboard. They've become something akin to action figures or a board game, and kids find themselves practicing their tricks and showing off their moves in groups. Yes, it'll help your child improve motor function, muscle coordination, and hand-eye coordination, but it'll also help them to find others who also love fingerboards. By including a tech deck or a ramp, they'll have even more options and be able to expose themselves and their friends to a whole new world of finger-boarding. So to answer the question of whether or not it's a good gift, we would undoubtedly say yes — Assuredly, kids ages six and up, both boys and girls, will love getting their very tech deck to show off their rad moves with.
FAQ
Frequently Asked Questions
Q: What is the SK8 Container made of?
A: The storage container is comprised of a thick plastic that is durable and lightweight. It folds up into the most perfect box to keep all of the ramp parts and fingerboards together so they are not lost.
Q: For the SK8shop Bonus Pack, are there bearings in the wheels? Do the trucks tilt for turning?
A: No the wheels do not have bearings, and the trucks don't turn or tilt. The fingerboards are sturdier without the agility that bearing would allow. The parts to these are tiny already, so assembly would be quite difficult if the boards had bushings.
Q: Do Tech Decks come with grip tape? If so, what is it made of?
A: No, these Tech Decks do not come with grip tape. Common fingerboards do come with a foam grip tape. Grip tape can probably be found in stores that sell supplies for Tech Decks or regular skateboard shops may carry it.
Q: Do most of the Tech Decks come assembled or must they be assembled when you get them?
A: All items in our list have to be assembled upon arrival. However, all of the manufacturers provide easy to understand instructions, and most of them provide a tool for the assembly.
Q: What is the appropriate age for these tiny skateboards? Would a four-year-old be too young to play with these?
A: Most of the manufacturer recommendations are for kids 6 years old and above with some of them even higher. This is because the Tech Deck and ramp sets do not come fully assembled, so there are many tiny parts that could be swallowed by very young children. If the toys were assembled by an adult and the child was supervised 100%, it may not be a problem. However, the finished toy is only a few inches in length and can still be swallowed easily by a child if unsupervised. It is best to follow the supplier's recommendations for this.
Q: If you purchase a Tech Deck online that is not assembled and the tool is not included, where do you get the correct tool for the job?
A: Anywhere the fingerboards are sold should carry the tool for assembly, such as regular skateboard shops or anywhere toys are sold. Many retailers are carrying these skateboards now.