My Little Pony has encountered a massive comeback with updated graphics and, dare we say it, even cuter ponies. What was originally a huge toy back in the 80s in the form of rubber ponies with unique stamps and brushable hair, has now become a major motion television show. It's amazing to see something that's survived nearly three decades become beloved once again by kids (and we're sure some adults!). Each pony in the show is just as unique as it once was back in the 80s, complete with their own personalities, features, and colorful, vibrant mane.
The great thing about My Little Pony coming back has been seeing all of the toys that are coming with it. While 80s pieces have become collectibles now and can be found on eBay, now you can find great, modern and updated toys that are inspired by the show. The ponies are a much higher quality and have definitive looks about them that make them appear to be truly magical. Each My Little Pony toy will give your child a sense of their own magic, whether it's a room decoration, a figurine, or even a book. These pretty ponies are taking the world by storm once again, and if your child is one who can't get enough of them, check out our comprehensive list of the most stellar and enchanting My Little Pony gifts out there.
14 Best My Little Pony Toys & Dolls for Kids Reviewed in 2018
Play-Doh My Little Pony Make 'n Style Ponies
American Greetings My Little Pony Headband
My Little Pony Girls 6 pack Socks
FREEZE My Little Pony Rainbow Dash Hoodie
Girls' Toddler My Little Pony Pink Dress
My Little Pony Large tin Tote
Magic Cutie Princess Twilight Sparkle & Friends Mini Collection
TY My Little Pony Soft Toy Princess Celestia
Jewel Rings Party Supplies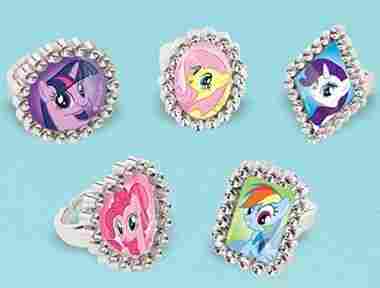 Thermos Funtainer 12 Ounce Bottle
Explore Equestria Crystal Empire Castle
My Little Pony – Rarity 8
Criteria Used In Evaluation of The Best My Little Pony Toys & Dolls for Kids
Ever since the first appearance of My Little Pony, it became an instant success. The modern-day revamp of My Little Pony is no different. And the millions of dollars this franchise makes annually proves how much people really love their ponies. With so many M.L.P. toys in the marketplace, it is confusing to know which is the best option for little girls or even little boys. Our list is perfect for parents who are not too sure which M.L.P. they should purchase for their children.
We included top-rated toys that are popular among parents and kids. The toys on this list are the best My Little Pony products that have different functions and uses. Some of these ponies are about 8 inches tall and they are fun to play with. Parents and children can comb their pony's hair while they chit chat about important stuff like candy and trips to the playground. Their little cousins will love coming over during family reunions because they have the best My Little Pony collection.
Sometimes, for whatever reason, the My Little Pony dolls should be left at home or in the car. That is when it might be ok to bring along the M.L.P. coloring book. It is a toy that can be enjoyed by one kid at a time and keeps them quiet. The M.L.P. book is perfect for times when kids need to be distracted but not become excited. Times like church and meetings are those times when kids need to behave the best they can and an M.L.P. coloring book is a way to go.
The My Little Pony Castle is a toy that can bring all of her M.L.P. toys to good use. The castle can be used as the main hub for all of their ponies regardless of the size of the pony. Visiting friends and family can bring their own versions of My Little Pony dolls and they can play around the castle. It is a beautiful dollhouse that is well-made and can be played with other types of toys and dolls.
FAQs
Frequently Asked Questions
Q: What is today's rendition of My Little Pony about?
A: The 2010 version of the popular franchise is about a unicorn pony named Twilight Sparkle and her mentor Princess Celestia. The Princess helps Twilight learn about friendship as she makes friends with other ponies and goes on adventures with them.
As the story unravels, Twilight learns that she is a key for the elements of Harmony. Twilight and her pony friends travel around their hometown of Equestria and work out problems that arise within themselves.
Q: Is My Little Pony a little girls' show?
A: My Little Pony is so popular that there are several different types of people that are fans. This show is supposed to be for little girls, but it is enjoyed by all members of a family.
The old '80s version had poor animation, bad voice acting, and boring designs, but it was still popular. Presently, it is a vibrant show with good storylines and superb graphics. The characters face real problems and break several stereotypes.
Q: Are there some things parents should know about M.L.P?
A: The male ponies in this show are background simple characters. They don't have a big role in anything and they have limited lines. The male ponies are seen staring off into space or saying things like yup and huh.
Ponies cannot be black, that color is reserved for villain ponies. There are other little facts about the show that are meant to be innocent but can be taken out of context. When Twilight Sparkle makes a room full of clones of herself disappear, was that murder?
Q: What are some secrets of the franchise?
A: There are fans that made their own version of an M.L.P. and are selling them online. There are now Xenomorph and Joker ponies online. As well as He-man, Edward Scissorhands ponies and more. A weird fact is that some names were banned from the show because they didn't sound innocent like Steamer and Ruby Lips.
Q: Why should kids watch My Little Pony?
A: The show teaches children to believe in themselves and provides positive examples of conflict resolution. The characters are sweet and respectful of each other, often reinforcing good behavior. Despite being a show for small children, it explores simple ethics and morality in a way that doesn't force an agenda yet provides a framework for children to build on.
Q: What are some magical facts of M.L.P?
A: M.L.P. is a feminist show. The main characters are all female and there are no masculine male ponies. The show celebrates feminine values, Pinkie Pie's hilarious random humor, morally complicated situations, great music, and rebellious attitudes. This show teaches lessons about friendship and all its trials and tribulations. The lessons are popular enough for adults to tune into and enjoy.
Q: Why is the modern-day M.L.P. better than its previous version?
A: It's colorful and more serious. Characters die in this show and they show having funerals. One of the characters strongly implied they died from cancer. This harsh peek at reality and the fantastic graphics keeps audience members asking for more M.L.P.