Ah, once you're out of the "terrible twos" it's all gravy, right? Well, until you have to pick out the perfect toy for your now three-year-old toddler, that is! Don't worry, though — We've got you covered. Three is the prime toddler age and as such, is a time of discovery, wonder, and activity. Three-year-olds are notorious for being highly active individuals and love to constantly be on the move, which is why fun and attention-grabbing toys are a must. In addition, this is also a wonderful learning age where children begin to absorb and remember information that's taught to them. Because of these two things, it's important to find toys that are both physically engaging while helping things such as muscle coordination, mental skills, and preschool practice. We've taken it upon ourselves to find toys that are stellar in the three-year-old department and have proven to be a great source of learning as well as exercise. We're sure that your little one will love each and every one of them!
Our Top 3 Picks
Squigz

Our rating
Promote Creativity
Price:

See Here
Little Tikes Mower

Our rating
Enhances Stability
Price:

See Here

VTech Drum Set

Our rating
Sensory Development
Price:

See Here

Our Picks of Top Toys & Gift Ideas for 3 Year Old Boys:
Fat Brain Toys Squigz Starter Set
Little Tikes Gas 'n Go Mower
Age range: 10 Months to 3 years old
VTech KidiBeats Kids Drum Set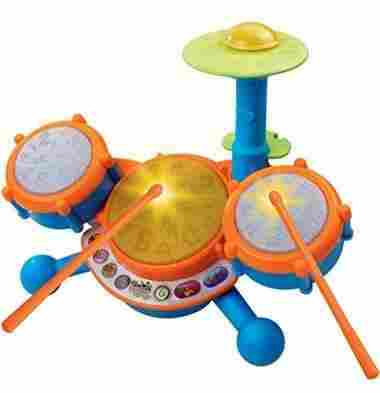 Little Tikes TotSports T-Ball Set
Melissa & Doug Deluxe Wooden Railway Train Set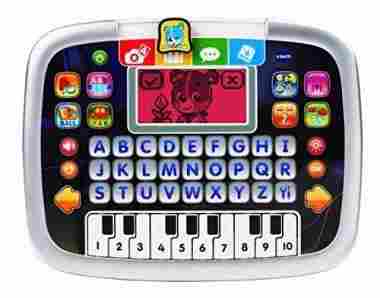 VTech Write and Learn Creative Center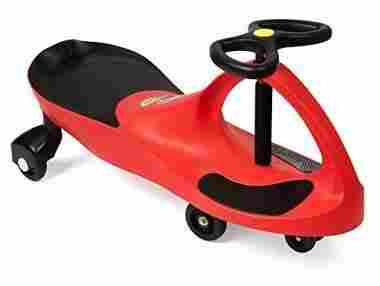 Fisher-Price Little People Sit 'n Stand Skyway
Melissa & Doug Car Carrier Truck and Cars Wooden Toy Set
Hot Wheels Exclusive Decoration Gift Pack
Nerf Super Soaker Scatterblast Blaster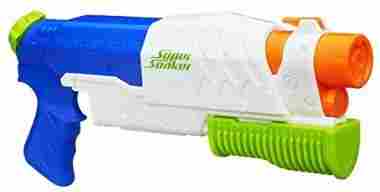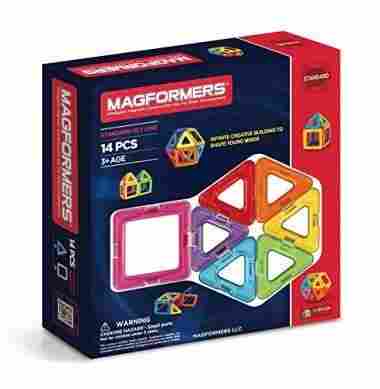 The Original Stomp Rocket: Jr. Glow in the Dark 4-Rocket Kit
All-in-One-Box-of-Fun 10572 Creative Play and Educational Toy
VTech Smart Shots Sports Center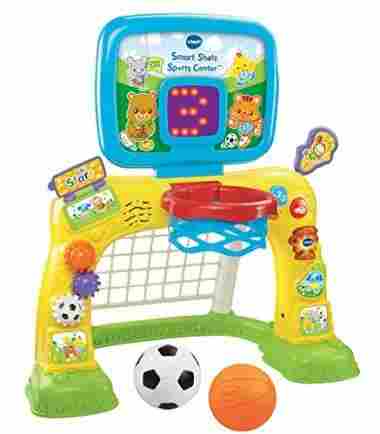 Learning Resources Pretend & Play Fishing Set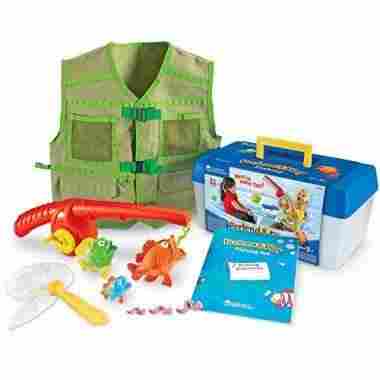 Flybar My First Foam Pogo Jumper
LeapFrog Scribble and Write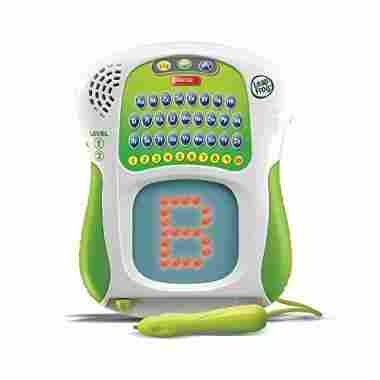 Battat Take-A-Part Toy Vehicles Airplane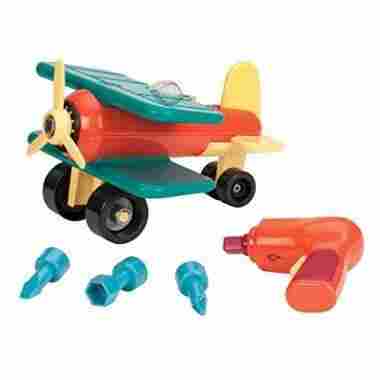 Criteria Used in Evaluation of the Best Toys and Gift Ideas
Our researchers scoured the web and found the top 20 toys that 3-year-olds' will not only love but benefit from the most. The exhaustive search looked at everything about each toy and after extensive comparison, our dedicated team developed this list. Every toy also offers a different mix of important learning skills.
Some toys like the tee ball sets, the plasma car ride, super soaker and water balloons are about having fun while exercising. These toys are not meant to teach young little boys how to read and write, but how to have fun moving their bodies. Its sad to say, but the U.S. is undergoing an epidemic of childhood obesity. Encouraging children at an early age that playing outside can be fun and rewarding is a step closer to ending the obesity epidemic.
The other toys on the list allow a little boy to practice problem solving skills and at the same time lets them work on their dexterity. Toys like the VTech Write and Learn Center, VTech Little Apps Tablet and LeapFrog Scribble and Write help tots learn the alphabet and numbers while at the same time work on their penmanship. Reciting the alphabet is important, buts its just as important that they learn how to write them down properly.
Toys like the Take-A-Part Toy Airplane, LEGO DUPLOS, Magformers and Wooden Railway Train Set are toys that encourage little boys to practice their creativity skills. These toys can be put together and taken apart over and over again. Toys like the LEGOS, Magformers and Railway Sets encourage creative thinking and planning skills. These toys can be put together in thousands of different ways so he will never run out of new things to try. Utilizing their imagination to get things done is an important skill that will help boys in the future.
What Determined The Most Popular Products in Our List
Many parents get flustered with the overwhelming selection of toys. There are literally tens of thousands of these toys. Unfortunately, many parents simply don't have the luxury of time to scrutinize every single toy or gift suggestion in the market. So, we have decided to help you by coming up with a list of the top and most popular toys for three year old boys.
Considering the immensity of the endeavour, we have devoted a research team to come up with a shortlist of the leading toys for the three year old age range. We checked the developmental appropriateness of each toy together with the benefits little boys can derive from it. We also looked at the safety features including federal certifications of each toy. We then looked at the quality of the design and evaluated its usefulness and its value in relation to its price. Of course, we also had to read the different reviews from parents and other consumers to identify any issues that they might have encountered in the product. The trustworthiness of the toy maker had to be factored in as well.
This is how we came up with the best toys in our list. We are positive you will also agree with most, if not all, of the toys we have in our twenty awesome toys for your three year old son.
Your Three-Year-Old Boy
If there is one thing that is very indicative of the developmental milestones of a three year old boy, then that would be his ability to play with other children. He is now more cooperative and will already share his toys and other playthings. Additionally, he may already begin to understand the value of waiting for his turn. Playtime activities, therefore, are geared towards teamwork and sharing. This leads to the development of healthier and more beneficial social skills as 3 year old boys begin to realize that it is a lot better to play with siblings and friends rather than to play alone. This also fosters a beginning sense of independence as they now have the confidence of being "away" from Mom and Dad and in the company of friends and other children.
This increased cooperative play requires good communication and language skills. In fact, child development psychologists say that it is through social play and social interactions that 3 year olds are able to expand on their vocabulary and further enhance their language and communication skills. Three year old boys can begin to read body language and nonverbal cues to enhance their communication skills. That is why it is critical for them to continuously interact with other people, other children, to help refine their understanding of both verbal and nonverbal communication.
Cognitively, 3 year olds are quick to master simple activities especially when these are reinforced. This also leads to a boost in self-confidence and can fuel them to strengthen their focus and concentration on the accomplishment of such activities. Unfortunately, don't expect them to have the attention span of adults or even older children. So, it is important to choose toys that are really interesting and can capture the attention of three year old boys for a much longer period of time.
Did you know that the 3 year old boy's favorite question always starts with a "why"? They are now exploring and learning a lot of the world around them so you really have to be patient in answering their questions. It can be quite frustrating to talk with a 3 year old because of the endless whys you will be bombarded with. Nevertheless, this is important as they are trying to understand and make sense of certain things in their world. Patience is a virtue that you need to have if you have a three year old boy.
Because of their natural curiosity and inclination to learn more of the world, they love to play outdoors a lot more. This means they will be playing with sand, mud, stones, leaves, and even insects. They love climbing, running, and walking up and down the stairs. Additionally, they now participate a lot more in active play. Playtime activities that promote the use of both large and small groups of muscles will be important for the 3 year old boy.
Three year olds are now more active and more interested in the world around them. It is therefore very important to make sure that they are able to play with toys that allow them to explore and learn more about things in this world. It is for this reason that our list of the 20 best toys for 3 year old boys will hopefully help you in making the correct choice to give as presents for them.
FAQ
Frequently Asked Question
Q: What type of 3-year-old toys should I look for?
A: We all want what's best for our little 3-year-old's. We want to give them the best opportunities to succeed while letting them enjoy life. While we wish to teach them important lessons and skills in life, all they want to do at that age is play. Luckily, kids learn by playing and educational toys encourage the development of important skills such as creative thinking and muscle development.
Q: How to pick early educational toys?
A: Ask yourself a few questions when deciding which toy to pick. These questions are:
Is this a STEM toy?
Will my kid learn new skills with this toy?
Is there more than one way to play with this toy?
Q: What are the different skill sets to look for when purchasing toys?
A: Different toys teach different skill sets. If the toys you pick encourage one or more of the following then you should be ok: creative thinking, cognitive skills, motor skills and soft skills.
Q: What is a STEM toy?
A: STEM is an acronym that stands for science, technology, engineering and math. In the future, more jobs will require a strong background in science. Toys that encourage STEM learning will give children a "leg up" over their classmates. STEM toys are meant to strongly enhance divergent thinking, innovative thinking, and develop hand-eye coordination.
Q: When should I start to worry about teaching my kid cognitive thinking and language skills?
A: According to the Early Head Start program, cognitive thinking and language skills start at age 3. So its important to look for toys that help enhance these skills, right when kids start to comprehend how to think critically and put words and sentences together.
Q: Are there any other benefits for a 3-year-old playing with educational toys?
A: Playing with educational and physically active toys do not just enhance early developmental skills. They also provide a healthier mentality as children grow older. They are not as depressed as other kids during puberty and have a happier outlook in life when these skills are encouraged at an early age. To learn more, the full article can be purchased online.
Q: Can early educational toys help my kid in the future?
A: Yes, children that are exposed to early educational toys end up doing well in preschool. They're confidence is high because they can see that they understand the concepts they are being taught in preschool. They can run and play well because they played with physically active toys at an early age. The full text can be requested online.
Other Age Ranges
1 Years Old
2 Years Old
4 Years Old
6 Years Old
7 Years Old
8 Years Old
9 Years Old
10 Years Old
11 Years Old
12 Years Old
13 Years Old
Gifts for Teenage Boys