How to Choose the Right Car seat for your Family
Ending up in a car wreck with kids on board is something of a nightmare situation for parents. Thankfully, it is very possible to significantly reduce the risk of injury by installing a car seat or a booster seat into your family vehicle. In fact, lawmakers on the federal and state level recognize the importance of adding these safety measures in your car to the point of creating laws about car seats.
These laws vary from state to state and have different requirements for the types of car seats that need to go into a car based on age, weight, and height of the child. Furthermore, some cars work with certain types of car seats, while others do not. Considering all of these factors can make shopping for car seats a significant challenge for parents. Here are twelve tips you can put into practice to help guide you on your search for the car seats that will be best for your family.
Read your Car's Owner's Manual
This is always a great step to take first since it will narrow down your search for you. Your manual should explain what types of car seats will work for your vehicle, and which ones will not. Some cars, typically older ones, are only compatible with car seats that make use to the seat belt to keep the car seat in its place.
Most newer cars feature a system called LATCH (Lower Anchors and Tethers for Child). These cars have hooks underneath the cushions that attach to the back of the car seat to hold it in place. Make sure to look through the car itself to make sure the latches are where they are supposed to be, and if they are in place for both front and rear facing car seats.
Find the Seat Fitting of the Child's Height, Weight, and Age
The car seat that is the safest for your child will change over time. For instance, when children are newborns or infants, they need to have a car seat that is rear-facing. This is recommended up until they reach a height where the top of their head is within one inch of the top of the car seat.
It used to be the recommendation that reaching 12 months or 20 pounds was the time to switch, however, height is now seen as the most important indicator of when to switch over to a front-facing seat. For car seats, kids generally will be about two years when they are ready to move onto a booster seat. Pay attention that prematurely born babies require preemie car seats.
The main indicator again here is height. When the tops of their ears reach the top of the car seat, they are ready to switch to a booster seat. A child is seen as ready to graduate from the use of a booster seat and move to the back seat with an adult seat belt when they are 8 years old.
Be sure to check to see if the seatbelt feels tight enough and rests on the appropriate places on the child's body.
Research your Own State's Laws
Each state has its own laws surrounding the requirements for child car seats. You may be following the pediatrics guidelines appropriately for your children's car seats, but still not lining up with state law. Some state's laws will require rear-facing seats longer than others, while some states may have laws specifying weight, height, or age in particular as the determining factor when a car seat is no longer required.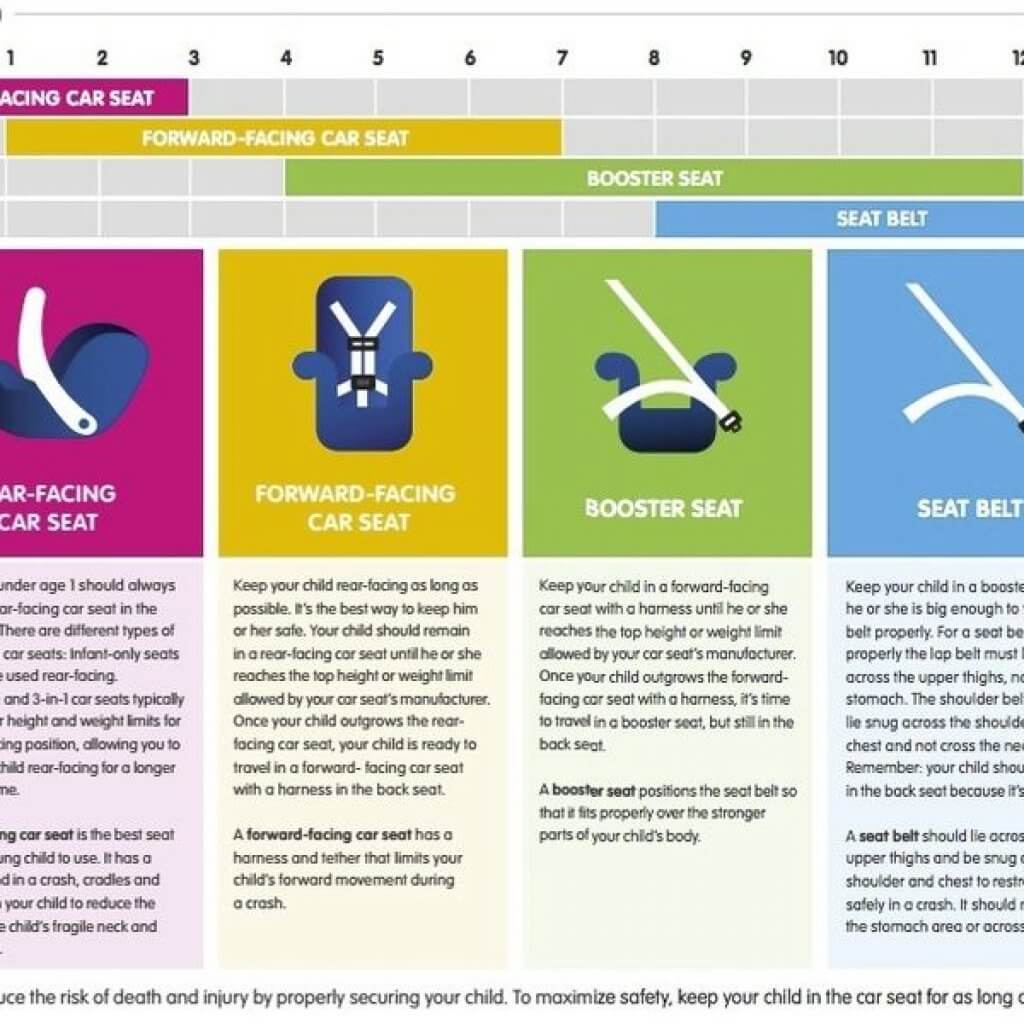 Depending on how many children you have, and the size of your vehicle, you may need to be particularly careful when checking the size of the base of each car seat you consider, especially if you need to make use of the car's middle seat in the back. Measure out how much space you have from one side of the seat to the other and make sure the total amount of space on each base of the car seats you are considering fits into this space.
Look for Seats with Clear Instructions and Diagrams
The makers of car seats that are smart are putting detailed instructions along with pictures to make sure parents know exactly how to make the car seat as secure as possible. If the car seat isn't able to be installed correctly due to ambiguous instructions, it will take away from its purpose of providing safety to the child. Car seats ought to come with a booklet along with instructions on the seat itself. Be sure to save this booklet in the case the seat needs to be removed and reinstalled at any point in time.
Choose Seats with a Two-Piece Retainer Clip
It is important that your child is unable to unfasten themselves from the seat once they are in. The two-piece retainer clip is more difficult to unfasten and typically takes an adult to undo. This will allow you to drive with a bit more reassurance when on the road with your kiddos.
Search For Easily Accessible Harness Adjusters
Any car seat you find should come with an adjustable harness, however, some are easier to use than others. Make sure the car seats you purchase have harness adjusters that are easily found and adjust to the optimal tightness without difficulty. If your child's seat has a harness that doesn't adjust well, it could compromise the safety of the seat.

Look for Something Easy to Clean 
Generally speaking, the smoother a surface looks and feels, the easier it will be to clean in the event of a spill, or if crumbs end up falling. Textures such as corduroy are a pain to clean due to the tight spaces dirt and food debris can enter. If your child's seat has a smoother surface, as well as fewer cracks in the cushions, it will clean a lot quicker and more thoroughly.
Check the Belt Path if Using a Seatbelt Fastened Car Seat
If you have to use a car seat that relies on the seat belt to stay securely in place, test it out and be sure it is a good fit the path of your car's seat belt. When the car seat has been put in place and had the seat belt fastened through it to secure it to the seat, try moving the car seat from side to side. Ideally, the car seat should not be moving more than one inch in either direction.
Make Use of Resources for Help
You can turn to CPS technicians, usually located at fire stations, police stations, or AAA, to ensure the safety of your car seat. They can help you make sure you've installed your seat to be optimally safe, help walk you through the car seat's instructions, and let you know if any other steps need to be taken in order to comply with your state's laws about car seats.
Always Buy Your Seat New
Even though it may be tough to fit in your budget, used car seats have an unknown history that could be hiding things which compromise the seat's safety. The car seat could be missing parts, manuals, or simply can be outdated and not fit for modern day vehicles.

Look for Deals in Bundles
If you are looking to save money on a car seat, consider looking for ways to bundle it with other essential items your child needs. For instance, you can typically find car seats sold in a package deal alongside a stroller that saves money on both items.
You can find these sorts of deals online or in-store in the stroller aisle. Keep in mind that shopping in-store will give you more of an ability to actually inspect the car-seat for the best safety features.
Most Read