Sports toys are the best playthings that you can give to your toddler. And just like sports in general, you are encouraging the child to engage in healthy, active play. There is no better time to instill this than while they are still small. Children learn a lot from sports, even more than the motor skills and coordination that comes with playing. They are introduced to the concepts of teamwork and even sportsmanship. Their social skills are also developed when they play sports with other kids, and even with you.
Children who are exposed to sports toys at a young age will also be able to develop the focus and motivation needed to succeed. It is also one way for parents to introduce and share their favorite sport. Who knows, your child could achieve a higher level than you were able to when you were young. On a lighter note, you don't have to go this deep into the situation. Just get some of the 10 sports toys for toddlers in 2017 and just have fun with your kid!
VTech Smart Shots Sports Center
Melissa & Doug Sports Bag Fill and Spill Toy
Sportstastic Activity Center
Little Tikes Totsports Easy Hit Golf Set
Little Tikes TotSports T-Ball Set
Little Tikes Easy Score Basketball Set
Fisher-Price Laugh & Learn Singin Soccer Ball
Melissa & Doug Sunny Patch Verdie Chameleon Double
Little Tikes 3′ Trampoline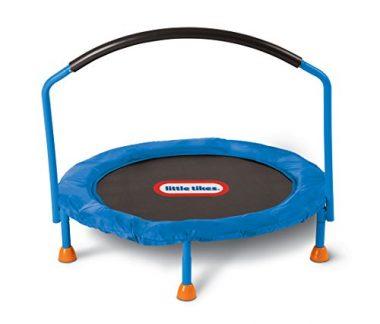 Criteria Used in Evaluation of the Top Sports Toys for Toddlers
Exploration.
A sports toy should give a toddler the chance to explore various sports and to explore their own sport abilities such as throwing, hitting and running. Such an exploration can encourage a dedication to learn a sport or to be physically active for the rest of their growth.
Early Learning.
A sports toy should not only teach sports but early learning too. Sports toys that teach early learning such as numbers, counting, colors, shapes and even vocabulary will help improve your child's mental abilities while improving their physical abilities in a fun, active way.
Physical Activity.
A sports toy that doesn't encourage physical activity is not a true sports toy. The sports toy needs to encourage physical activity whether it's throwing a ball, sliding down a slide or even swinging a bat. Physical activity in sports toys help to develop a toddler's motor skills, coordination skills and even balance skills while keeping them actively fit.
Mobility.
A sports toy is best played when it can be played virtually anywhere. Your toddler might grow bored being confined to a playroom so a sports that can be played with from room to room or outside will provide greater developmental activity. The sports toy needs to be easily held and carried by your toddler as well.
Longevity.
A sports toy needs to grow with your toddler from their early stage up until their later and final toddler stage. Such a sports toy will help aid in continuous development that can last a lifetime. This also includes the built of the sports toy too. A sports toy that is very durable and sturdy will not only last the toddler stage but provide safety as well.
Safety.
A sports toy top priority should be safety. A safe sports toy will prevent scratches, cuts and bruises while also preventing minor to major injuries. Sports toy that are safe are constructed with top quality, toxic-free materials, are made to withstand heavy activity and are just the right safe size for toddlers.
What Determined the Top Sports Toys for Toddlers in Our List
Toddlers are natural explorers. Because they are still exploring the limits of their capabilities particularly their physical strengths, it is imperative that the sports toys we included in this list were those that are inherently safe to play with. From the inherent features to the smallest components that made up these products it was important to ascertain their safety. Also crucial to our selection process was the appropriateness of the sporting toy on the developmental level of 18 months to 3 year old kids. If the product has certain features that require the developmental level of a preschooler or children whose ages are between 4 and 7 years or even older than that, then we were obliged not to consider the product for inclusion in the list. Company reputation also played a role in the determination of which products to include and which ones need to be scrapped off the list. Our thinking actually reflects the sentiment of many consumers who place premium on quality and safe craftsmanship which are judiciously protected and guaranteed by organizations that have a reputation to protect. These comprised the parameters which allowed us to determine the top sports toys for toddlers in this list.
What Kind of Sports Should Your Toddler Go Into?
Everyone knows that sports are important for children. These help in their physical, emotional, psychological, and social development. While it is quite easy to introduce your child to sports, a more pressing question is what kind of sports your 2- to 4- year old child should go into.
It is important to understand that toddlers and preschoolers are just beginning to master different movements, many of which are still considered to be very basic. If you let them engage in highly organized sports like soccer, baseball, or basketball, they may be too young to understand the rules of the game. Experts say that toddlers don't gain any form of long-term advantage related to future sports performance if they engage in organized sports at an early age. That being said, they will benefit a lot better from unstructured free play. For this, the following activities are deemed best.
Running
Throwing
Catching
Tumbling
While running, throwing, and catching are essential movements in baseball and football, these should not be construed as competitive in nature. The "teams" that are formed in toddler sports are nothing more than kiddie classes designed to encourage cooperative play. Competition for kids at this level is unheard of and should be kept that way. Studies reveal that competitive sports are very stressful for children below the age of 7 or 8.
The Bottom Line
The best sports that your toddler should go into are those that focus only on fun without winners or losers. There should also be no imposition of right or wrong ways of playing the sport. Toddler sport is all about having fun. With these 10 sports toys for toddlers in 2017, you can guarantee kiddie fun and a whole lot more.
FAQ
Frequently Asked Questions
Q: Why are sports toys important for children?
A: Sports toys can help teach children not only how to play sports but essential sports skills that can be applied in other areas of their lives such as teamwork, fair play, respect for themselves and others and even honesty. Sports will also help to encourage a long term involvement with physical activity and enhance focus on physical health, growth and development.
Q: What are the benefits of sports toys for children?
A: The benefits of sports toys for children are endless but the most common ones are physical activity, lifelong health, social skills, self-esteem and learning success.
Physical activity in sports provides exercise and development of motor skills, balance and coordination.
Lifelong health in sports builds a foundation in wellness that supports the body and mind.
Social skills in sports will develop teamwork and communication abilities.
Self-esteem in sports creates a positive impact and builds an "I CAN DO IT!" attitude.
Learning success in sports teaches hard work and dedication.
Q: Which children should play sports toys?
A: Virtually all children can play sports and there are plenty of sports toys for children of every age, development level and even physical, mental ability. If your toddler happens to be a super active toddler who can never sit still for a minute, sports toys can help burn energy and keep them occupied with fun, active entertainment that can last for hours.
Q: What are the best sports toys for children?
A: For toddlers the best sports toys help to master basic movements and are made for unstructured free play. Sports that encourage running, tumbling and throwing to name a few will help development such as motor skills, coordination skills, spatial skills and build a foundation for organized, structured sports in the future.
Q: How will sports toys keep my child interested?
A: The best way to keep your toddler interested in sports is to choose sports toys that provide a variety of play options, can be played with other toddlers and be used in multiple spaces such as indoor/outdoor. Make sure the sports toy allows for independence and give them praise for their efforts even if they "lose". Another good idea is to let them choose the sports toy and even participate in playing with your toddler and their sports toy.
Q: Where else can I discover sports toys?
A: You should start with the Born Cute "10 Sports Toys for Toddlers in 2017" list: Click the link of the sports toy that interests you and when you arrive at the Amazon page for the sports toy you selected, scroll down to the "Customers Who Viewed This Item Also Viewed" OR "Customers Who Bought This Brand Also Shopped For" lists. Those two lists can give you a great starting point in discovering other sports toys.
Another option is to speak with physical education teachers and sport coaches that can help with choosing sport toys for your child.