By the time your child turns 1, trying to figure out the perfect toy can seem like such a chore to some parents. Parents today worry over which products are safe, most likely to help their child developmental levels, which toy is the best-rated, long-lasting and most cost-effective option that's out there. These days, purchasing even a teether for your toddler seems like you must do endless amounts of research on it before finding that perfect one. This is why we are here.
Through endless research, we found the perfect toys for your 1 year old that are both cost-efficient and educational. Now all you have to do is take a look at our list and you will find that all of these items are beneficial to your child. The following products that we chose all are highly rated and with the intent of gifting to young infant girls around the age of 1. We've collected products that are developmentally progressive, educational, fun, and already approved by babies across the globe.
Our Top 3 Picks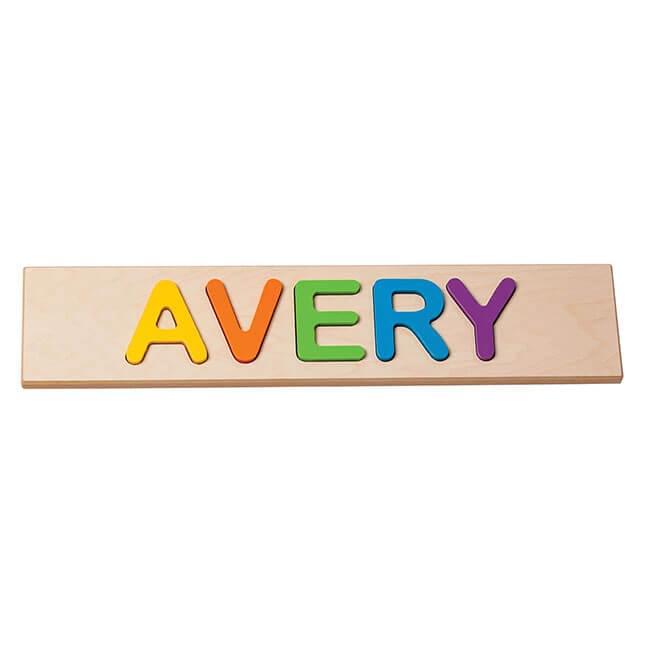 Personalized Name Puzzle

Our rating
Teaches Basic Spelling
Price:

See Here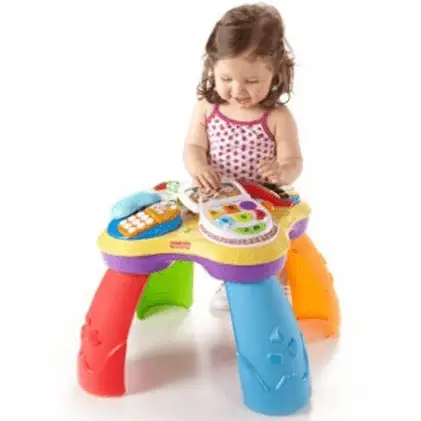 Fisher Price Learning Table

Our rating
Interactive Content
Price:

See Here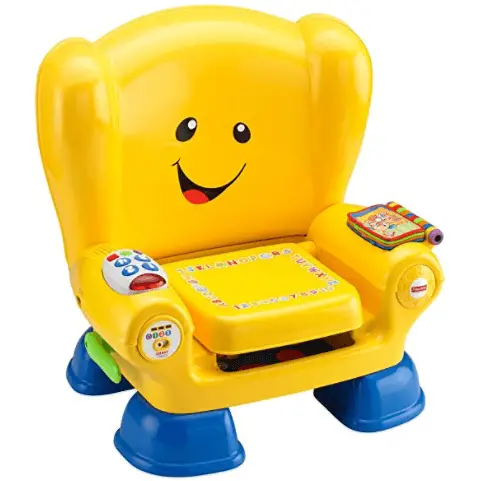 Fisher Price Chair

Our rating
3 Levels of Play
Price:

See Here
Our Picks Toys & Gift Ideas for 1-Year-Old Girls:
San Francisco Organic Bamboo
Baby Einstein Take Along Tunes
Laugh & Learn Smart Stages Chair
LeapFrog Shapes And Sharing Picnic Basket
B. Toys B. One Two Squeeze Blocks
Whisper Ride II for Toddlers
Sit-to-Stand Learning Walker
Baby GUND Princess Castle Stuffed Plush Playset, 8
VTech Spin and Learn Color Flashlight
VTech Baby's Light-Up Laptop
Octopus Hoopla Bathtime Fun Toys
Brilliant Basics Stroll-Along Walker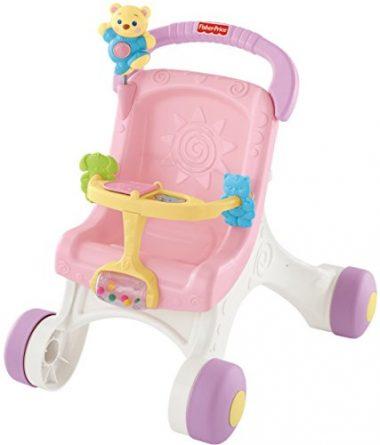 Baby Babble and Rattle Microphone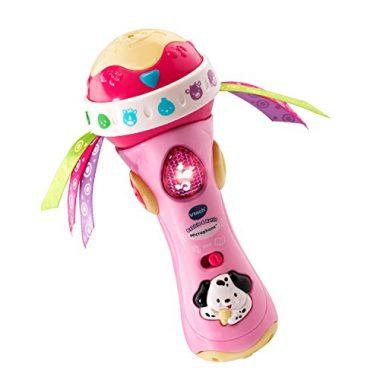 Fisher-Price Laugh & Learn My Smart Purse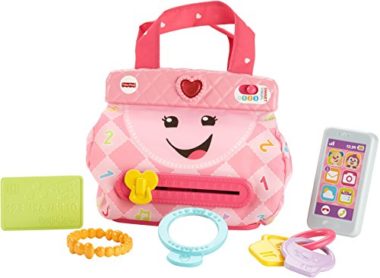 Munchkin Mozart Magic Cube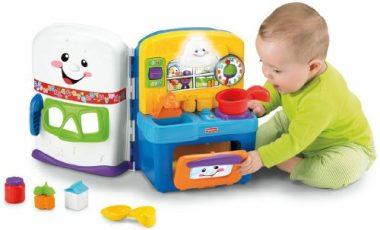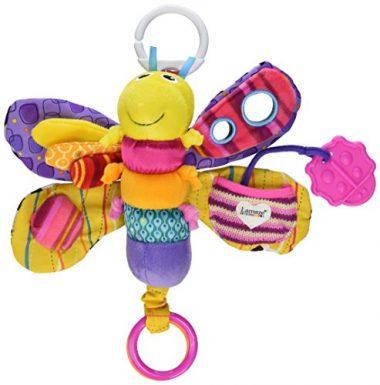 Einstein Discover and Play Piano
Criteria Used to Evaluate the Best Toys for 1 year-old Girls
There are many different types of toys out there on the market, including many designed for girls at the age of 1 year old or younger. So, choosing the right toy for a girl who is at that stage where she is discovering the world around her can be a challenge.
When creating this list we took the time to look for toys that met certain guidelines that the parents of a little girl at this stage in her life will look for. We took the time to do the research to help take the guesswork out of finding the right toys for their little princess. When choosing these toys, we looked for the following types criteria that are ideal for a 1-year-old girl.
Safety
Some toys come with a warning that states they are not recommended for kids under the age of 3. This warning is usually put in place because the toy has small parts that could be a choking hazard to toddlers. Let's face it, at the toddler ages, children want to put things in their mouths, which is part of sharpening their overall senses. So, it's important that the toys they are given not be a choking hazard.
Another concern for parents is that the toys be nontoxic, and also not have sharp edges. The more advanced toys that have come from trusted brands such as Fisher-Price and V-Tech have taken steps to ensure that their toys meet updated safety guidelines.
This includes having the toys go through testing to ensure there are no toxic materials used in the toys' creation before they ever hit the shelves for consumers to by. The toys listed here are recommended for girls under the age of 3 and have been noted to meet safety protocols. However, there are recommendations that a parent will need to follow as well:
Read all instructions as these give proper guidelines on the toy and will include what to avoid.
Supervise a child at play. At this early developmental age, it isn't possible to allow a child to play by themselves, parental supervision is required.
Make sure battery chamber is properly secured, before allowing a child to use. This includes ensuring that the screw is placed back into the chamber after installing the batteries. Note, small batteries such as the ones required for several of these toys not only cause choking hazard but are also highly toxic if ingested by a child.
Developmental Skills
A child's development is crucial at this stage in their lives. So, it is important to find toys that will stimulate the senses in children. Some of the important skills that a child will need to develop that can be nurtured by toys on this list are:
Sensory: Helping a child to hone in on their various senses is key at this point in their lives. So, having toys that are bright in colors and light up will stimulate sight. Toys that play music or make sounds stimulate hearing. Toys that are soft or have textures stimulate the pleasure of touch.
Cognitive: At this stage, stimulating the mind is quite crucial. One-year-old girls will start to associate with her name and who her parents are. This is where toys that play music again can help. Kids tend to sing songs more easily at first than phrases. Also, educational elements can be maintained within the brain as well. So, through fun and play the girls start to stimulate the mind while using toys that will not only entertain but teach.
Communication: As young as 4 months old, a child can start communicating. This comes from wanting to associate with the world around them and hearing communication of adults such as their parents. So odds are a 1-year-old girl will also start to make sounds. The right toys will help to stimulate the communication process, teaching how to identify letters of the alphabet, form sounds these letters make and to be able to even form words. By the time a child is 1, they start forming small words, so through toys that further provide music and simple phrases, they can learn even more about communication.
Imagination: These days it seems as if using their imagination is something a child doesn't do too often. Between the use of technology and video games, learning to pretend seems to be a thing of the past. However, the toys listed here encourage imagination during play time. Having an imagination is something that is essential to a child because it is through imagination that a child's mind grows in its creativity and idea forming. So imagination is an element that essential to a young mind in the developmental stage.
Motor Skills & Coordination
It is around this time in a little girl's life where she starts to learn to roll over, crawl, then pull herself up and finally take her first steps. There are toys on this list that promote a baby girl starting to stand and walk. But the legs are not the only part of the body that has to be developed, the hands also need to be busy. Kids want toys to grab hold of and to even squeeze. Through play, a child also learns more about balance and coordination.
Sharing & Bonding
It's important for a parent at any age to spend time with their child. A little girl would no doubt delight in playing with mommy and daddy. To have bonding experiences is also helpful in a girl's overall development and these toys encourage this. It is also advisable with most, if not all toddler toys, that a parent supervises the child while using them. This could be a perfect time to play with the child and to have some bonding time. As for sharing, maybe a toddler won't completely understand what sharing is and will also have a hard time doing it, but some of these toys encourage the act of sharing. This could be essential if a child has siblings or could have some in the future. Teaching a child the importance of understanding that sharing can actually be fun and quite enjoyable during play time is a good life experience for them to be taught early on. It will help the child when they start to interact with other children and even when they enter school.
How We Chose the Most Popular on Our List
Coming up with a shortlist is never easy, but we knew it had to be done so you won't have to fret over choosing the best gift or toy for your little princess. We have scoured the Internet for the best toys and have come up with the top 20. We subjected each one to a scoring system that looked at each toy's developmental appropriateness, quality of design, usefulness of the toy, overall safety features, positive consumer and parent feedback, and toy maker reputation. We also had to take note of negative comments as these can impact the overall value of the toy. We know that these are the exact same things you will also consider when choosing the right toy for your little ones.
Your Little Princess and Her 2nd Year of Life
Before your little princess turns 2 years, she would have already accomplished a lot in terms of her physical, cognitive, social, and emotional development. In the next few years, she will grow and develop until she reaches her optimum.
Between the ages of 12 and 18 months, you can expect your little princess to already show some kind of understanding of what is happening or occurring in their surroundings. By this time she is already getting used to the different routines at home. It is therefore important to provide her with toys that will allow her to master these "routines" to help make her feel more confident especially about her abilities to perform these routines. This can also help foster independent play.
She also begins to understand the idea of object permanence which helps her to feel more confident about not being able to see mom and dad because she knows they are essentially still in the house, just in another part. This makes them very proficient when it comes to puzzles or toys that allow them to look for certain things. These playtime activities help develop her memory as well as focus and concentration. In many ways, it is the foundation of beginning convergent problem-solving skills. She has an idea of the answer to the problem so she actively searches for it even though she hasn't seen it yet.
Physically, a 12- to 18-month-old girl will have to strengthen her muscles and control her motor movements. Toys that allow her to use her arms and legs are particularly beneficial as they help to tone and grow the muscles. For their fine-motor skills, young kids will also benefit from making marks as well as drawing.
It is important to help 12-to 18-month-old girls to develop their language as well as creativity. Providing toys and books with songs and interesting visuals can help in this regard. More importantly, parents should sing along with their young girls to encourage the development of their speech.
Between the ages of 18 and 24 months, your little princess will now become little Dora the Explorer.  Their sense of adventure is already apparent and they will want to explore their surroundings a lot more. By this time, they are beginning to learn the principles of cause-and-effect relationships and will definitely want to explore the different implications of such relationships. Toys that provide cause-effect relationships are beneficial as they try to understand the what-if phenomenon. This also helps lay the foundation for more imaginative play as can be seen from their very artistic creations.
Language-wise, they still have very limited vocabularies and this can pose a major issue especially if children cannot find the right words to express their ideas. This leads to frustration and can culminate in your little girl throwing a temper tantrum. It is therefore important to provide toys and gifts that will expand her vocabulary so she can communicate more effectively her thoughts and her needs.
We know how daunting matching the correct toys to these developmental needs can be. Nevertheless, we are positive that your 1-year-old girl will surely love any of the 20 toys we have listed in here and that she will grow up to be one well-developed young lady.
Choosing a Gift for a 1-Year-Old Girl
If your daughter is approaching her first birthday, then you, beyond a doubt, are coming to the realization of the importance of this first "personal holiday" for your young treasure. Her mind is coming alive before you, she is beginning to put the names to things, and she knows your face now, and wants to know your name.
She wants to know her own name, and you are swept away in wonderful confusion as to how you will keep up with the development of her mind. When buying her first gifts, consider how easy it can be to improve her cognitive function by playing simple games or naming toys and organizing them with her. She can be greatly benefited by what you might consider to be the most benign of social interactions.
Teach her to spell her own name, you might be surprised at how quickly she can learn. Give her interactive and bright simulations of furniture and tools you commonly use around the home, she'll see them as a form of communion between you when she learns through mimicry.
With a mind so young, every single bit of information that can be afforded will work to solidify her concept of the world. This birthday is wildly important to you and your daughter, but the best way to make her happy is also the easiest: just play with her, and watch her learn.
FAQs
Frequently Asked Questions
Q: Can any of these toys also be suited for a boy ages 1 and under?
A: Yes, these toys are actually ideal for both genders. In fact, some of the toys listed here in pink are also available in other colors. In today's world, parents look for toys that break the gender barrier. Yes, pink is associated with girls, but if a parent wants to not follow that line of thinking, other beautiful vibrant colors can indeed be chosen.
Q: Can these toys be used beyond the age of 1 year old?
A: Yes, in fact all these toys say that a kid up to the age of 3 will enjoy playing with these toys. In fact, a few, such as learning table, could continue to entertain for even a few more years. The best advice is to see just how long the toy actually does catch your child's interest as it could be different for each kid.
Q: Do these toys come with instructions?
A: The electronic battery-operated toys listed here do come with instruction booklets. In fact, it is important to retain the instructions for future reference. It is also important to read the instructions before operating the toy to learn all about it and the safety protocols.
Q: Do these toys come with warranties?
A: Several of these toys, including the battery-operated ones, could have a limited warranty included or an option to buy a warranty. Of course, a warranty will be of help if the toy stops working within that time frame. It will also come in handy if the toy doesn't work as advertised and needs to be replaced. The toys that come with a limited warranty included may have an option buy an extended warranty plan.
Q: Do any of these toys contain toxic materials?
A: Parents today are deeply concerned about toxic materials such high traces of lead being found in their babies toys. Especially since the lead poisoning scare that occurred back in 2006 which led to many trusted manufacturers recalling various toys due to high traces of lead found in them in 2007. Since this time, as stated by Consumer Product Safety Commission, new Congressional guidelines were put in place  that now require that all toys for kids under the age of 12 be tested for toxic materials by a third party lab before being given clearance to be placed on the shelves.  All the toys we listed here fall under this safety protocol and were given this degree of testing.
Q: Are these toys 100 percent safe?
A: As stated above, the toys listed here were tested for safety. However, it is quite important to point out that nothing in this world is completely safe. The only guarantee that a concerned parent can have here is that each of the companies has taken the time to create toys that meet the safety guidelines for kids age 1 and under. It is also important to abide by the recommendation that a parent supervise or play with a child while they play at this age. At this age, it is important to keep an eye on your child to ensure play time isn't only fun but as safe as possible.
Q: Are replacement parts available?
A: Some of the manufactures such a Fisher-Price, Leapfrog, and V-Tech  do offer replacement parts even to those toy that don't have a warranty option. Unfortunately, there is an additional cost for the parts that are to be replaced for the toy if no warranty was available or purchased. The replacement parts can be ordered on their official websites.
Q: How does someone determine which toy is ideal for their little girl?
A: This is a good question and the best answer is to study your child. Yes, even at this age there will be signs of what interests the child the most. Odds are the girl will want to reach for things which makes an age-appropriate toy she can grab hold of ideal. Odds are good she likes music and is a fascinated by movement. The list of toys here have several different suggestions that will no doubt suit most little girls at this developmental stage.