Choosing the Right Hiking Gear for Kids
In today's age of consumer electronic addiction, children are given less and less reason to venture into the great outdoors. Gone are the days when parents would usher their children into the yard just after breakfast, not to see them again until they return, sweaty, flush-faced, and eager for lunch, having worked up an appetite playing outside all day with the neighbors. Parents now seek any way to inspire their kiddies to find value in nature, and it certainly takes more effort and more supervision than it used to. Thankfully there are activities like hiking, which both parents and children can enjoy together. Hiking provides kids with a sense of adventure, an appreciation for nature, and increased physical strength and endurance.  Nervous about what to bring to keep your little explorer safe and entertained on the trails? Look no further. Below you will find everything you'll need to ensure a successful adventure.
Hydration
Hydration is one of the single most important things to keep in mind when going for a hike, especially in hot or humid conditions. This is even more essential if there is no reliable water source on the trail. Specific requirements vary based on size and climate conditions, however, as general guidelines, you'll want to have around 2 cups (16 ounces) per child for each hour of hiking. Increase this to about 4 cups (32 ounces) if hiking in especially hot temperatures. On an especially long or remote hike, you may also want to consider bringing a means to purify water (from a stream or lake). Iodine tablets are probably the cheapest and most lightweight option but can have an unpleasant taste. If your child is picky, you may want to consider a pump filter or portable UV water purification system instead. Worried about motivating your child to drink so much water? Consider giving them their own brightly-colored water bottle, or water reservoir (like a Camelbak) to encourage them to drink. You may also want to consider adding flavored powders to make water more palatable if you have a picky eater (or drinker in this case) on your hands.
Nutrition
Like hydration, this one should also be no surprise. When considering how much to bring, you'll want to consider this general safety tip: always pack at least an extra day's supply of food. Hopefully you won't need it, but it could save you in a worst-case scenario. For efficiency, it is a good idea to bring along foods that are both lightweight and nutrient dense. The good news is, these types of foods are often palatable to children anyway. Options include trail mix (bonus points if you make your own!), granola bars, nuts and seeds, tortillas, cereals, crackers, dried fruits, and nut-butters (think PB and J!). Just don't forget to bring hand sanitizer or moist towelettes to clean hands first, and a carry out trash bag to keep the trails pollution-free.
Clothing
Layers, layers, layers! Feel free to check the weather report, but do not trust it. Play it safe and prepare for inclement weather, even if unexpected. This means bringing hats, glove, rain-jacket and pants, windbreaker (can be the same as the rain-jacket) and warm layers such as fleece, wool or – if in an especially cool climate – a down coat. Remember too, that the summit is often tens of degrees cooler than the trailhead. Prepare for unexpected rain, mud or misshapen stream-crossings by bringing a change of clothes (especially socks). Footwear? Hiking boots or sturdy tennis sneakers are best. And don't wait for the day of the hike to wear them in, or else be prepared for blisters! Finally, don't forget a bathing suit/swim trunks and a towel if any swimming opportunities are expected along the trail.
Hiking Pack
Kids love to carry their own bag, so consider taking along a small backpack for the little one. Opt for one with real straps, since the rope-type bags offer little support. Even better, get a pack with a water reservoir to encourage hydration along the trail.
First-Aid Kit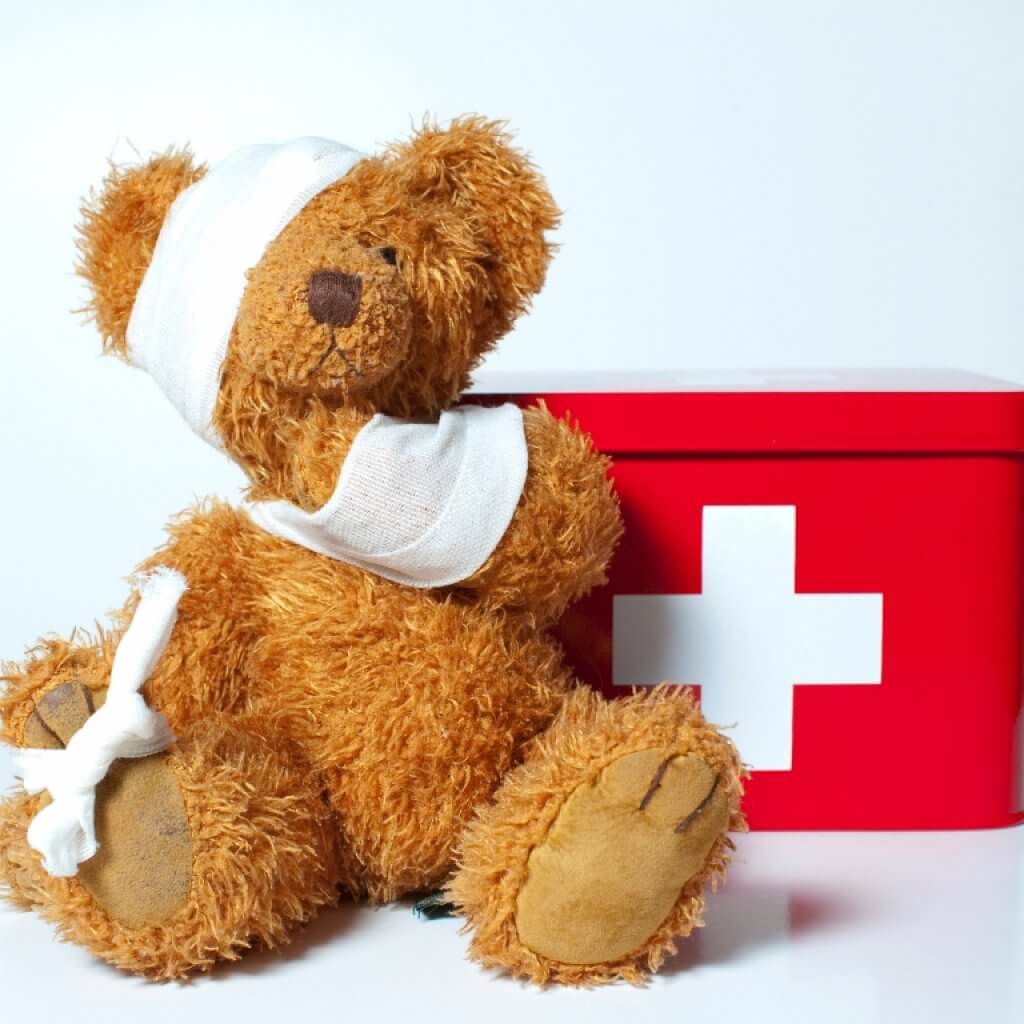 Hopefully you won't need one, but let's face it: accidents happen. Pre-assembled kits are most convenient, and can actually be more cost-friendly if you don't already have a lot of the supplies. If you prefer to make you own, don't forget to include:
Treatment for blisters (your most likely nemesis)

Adhesive bandages or band-aids. Bonus points if they are colorful or fun-shaped.

Disinfecting ointment (think neosporin or bacitracin)

Gauze pads in several sizes

Adhesive tape

Medications: In addition to any regular medications, consider carrying tylenol or advil. If they have severe allergies don't forget the benadryl and Epipen too!

Disposable gloves
Sun Protection
You'll want to apply about 30 minutes before the hike for optimal protection. However, don't expect this to last the whole hike. Factors such as weather, sweat, and length of hike can render skin more vulnerable as the day wears on. The American Academy of Dermatology recommends using something that is broad-spectrum, at least SPF 30, and water-resistant. Reapply at least once every two hours, more often if swimming or sweating. The same rules apply to the lips, so bring along a chapstick or lip balm with at least SPF 30 as well. Finally, don't forget the basics: seek shade when possible, bring along sunglasses, and consider packing or dressing your child in a brimmed hat.
Insect Repellent
Apply right before hiking and reapply often (as instructed on the bottle as this varies according to strength). Consider the following options, which come in lotion, spray, and stick form:
DEET: contrary to popular belief, this is considered safe in children as young as 2 months old, according to the American Academy of Pediatrics.

Picardin: an odorless alternative to DEET, and also safe for children 2 months or older

Natural options: plant oils such as

citronella, lemongrass, peppermint, and cedarwood have insect repelling properties. Just keep in mind these need to be applied more often.
GPS, Map, or Compass
There's nothing like getting lost to ruin an otherwise carefully thought out plan! There are many options for this one, though if relying on an electronic device keep battery life/power in mind. Consider a basic trail map and compass instead. Bonus: compass skills are both a valuable skill and fun to learn for kids.
Don't Be in the Dark
Never assume you won't be hiking out in the dark! Bring along a light source, as well as back-up batteries, for every hiker. Headlamps are a fun, hands-free option for children and parents alike.
Fun Stuff
While hiking offers plenty of entertainment itself, keep in mind that kids sometimes bore more easily than adults. Contemplate bringing the following to keep your little adventurer amused:
His or her own set of binoculars to spot exciting wildlife

A checklist/scavenger hunt

A nature guide

Their own trail map

Fishing rod, if applicable

A hammock

A beloved stuffed animal

Treats and rewards (candy at the summit?)
For the Really Little Ones
Hiking with a baby? It's never too early to start! In addition to the above, pack the following essentials:
A child/infant carrier pack. There are plenty of options for this, just try it out to make sure it's comfortable for you and baby before beginning your adventure

Sun/rain hood (often comes with the carrier pack)

Bug Netting

A diaper bag with extra diapers and wipes

Diaper changing pad

Rattle, stuffed animals, bubbles, toys

If formula-fed: bring plenty extra! Breastfeeding mamas don't have to worry about this one!

A blanket
Off We Go
Now that you're prepared, your child is ready to experience all that hiking has to offer. And you may rediscover your own inner-child along the way. Just don't forget to pack your sense of adventure. Go forth with your little explorer!