The Essentials for Your Changing Bag
As moms, we have so many things for us to think about and try to remember on any given day. One of the best ways we can be prepared is by having an organized and well-stocked diaper bag. It is of the most important tools any mom can have.
Like Batman's utility belt, A well-stocked diaper bag will have everything needed to successfully navigate through runny noses, sticky hands, and all of those unforeseen messes that our kids are so good at creating. You know the type of mess I'm talking about, right? The messes that start with you asking yourself why the kids are being so quiet. Already knowing the only time they are quiet is when they are getting into something. The kind of mess, at first sight either makes you want to cry or call in a hazmat crew.
Where you have to wonder how something so small was ever able to do such a thing. In less then the time it takes to walk to the mailbox and back an entire room has been covered in baby powder or the aftermath of your little ones having tried to make you a snack. Having an organized and fully stocked diaper bag at your disposal makes the cleanup of even these types of monster messes a quick and easy task.
Yeah right! I never said the diaper bags were magical or anything. I was just messing with you, because having to clean up anything like that is never an easy task regardless to how prepared or organized you are. However, here's how their value gets proven. You do have a well-stocked organized bag can now get to your ibuprofen and water without having to dig through anything. Then, knowing exactly where to look, you're able to grab a neatly packaged up change of clothes and fresh diaper for your little monster along with the spill proof container of baby wash and washrags you made sure to stock.
After all of this gracefully your mess making monster is now sleeping peaceful after their bath and bottle. You are able to face the clean up with a little less stress and a little more focus. Finally, grabbing  a granola bar and the shirt we packaged up just in case. We are ready to move forward with the rest of our day.
Be Prepared for The Day Ahead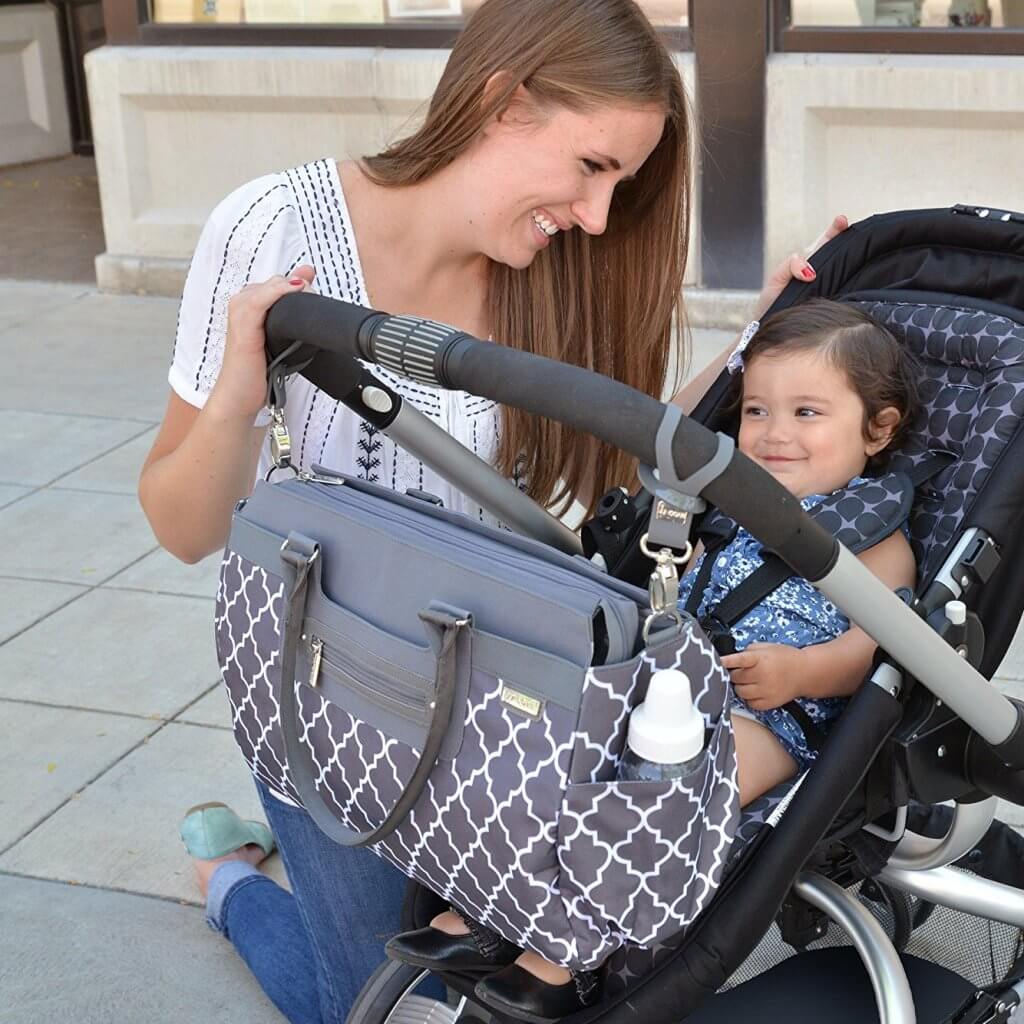 We can be fully prepared for whatever the day ahead has in store for us just by putting a little bit of thought and some effort into our diaper bags content. Having all of the items in your bag organized and accessible gives moms the ability to tension any need with ease and confidence. It helps a mom to be efficient and more productive.
It can also help to alleviate some of the tension that accompanies any difficult or stressful situations that may arise. A mom can be more available and attentive to the needs of her family when she is able to quickly meet her children's needs with ease. However, the results and consequence of a diaper bag that is just thrown together or didn't get restocked and is lacking can be very unpleasant to deal with. Creating and adding stress to a possibly already difficult or stressful situation.
Who Does a Neatly Packed Diaper Bag Benefit
It affects not only you and your child but everyone within earshot. Those around you have to endure a frazzled mom and a very unhappy child. If you've ever forgotten your babies pacifier or forgot you used the last wipe, diaper, or onesie then you know what I mean. Not having certain things with you at all times when you have young children can make a difficult situation almost unbearable.
Motherhood as rewarding as it is, can also be very stressful and challenging at times.  If we make it a point to set aside just a little time each day to plan and prepare. The result of that time taken will amaze you. The time and effort you will save by not having to fumble around hoping to find what you need in a thrown together, incomplete bag is priceless. It doesn't have to be an overwhelming chore either.
Keep it Simple and Straightforward
Keep it simple and straightforward. Make it part of the time you take for yourself every day. I find, for myself it's better to do at night, being the last thing I do before I call it a day. That way, I don't begin my day by adding something else to do to a usually already busy morning. Creating stress where there doesn't have to be. I can't stand having to rush around first thing. It tends to set a bad tone for the rest of my day.
So, when your house is finally quiet for the night. Run a hot bubble bath, put on some soft music, grab a cup of your favorite hot tea or a glass of wine (unless you just had to clean up one of those monster messes then feel free to grab the whole bottle), a book or whatever you enjoy doing to relax, and your diaper bag.Enjoy a little downtime. Relax, unwind, and then do yourself a favor.
Restock Ahead of Time
Take the time to restock and ready your diaper bag. Be proactive and prepare for another day. If you aren't used to a daily routine or being organized in this way, it might seem a bit overwhelming or tedious. In the beginning it might very well be. It won't take long for you to adjust and it become just another part of your day. Remember, anything worth having is worth working for. I promise it'll be worth it.
The Everyday Essentials for Your Bag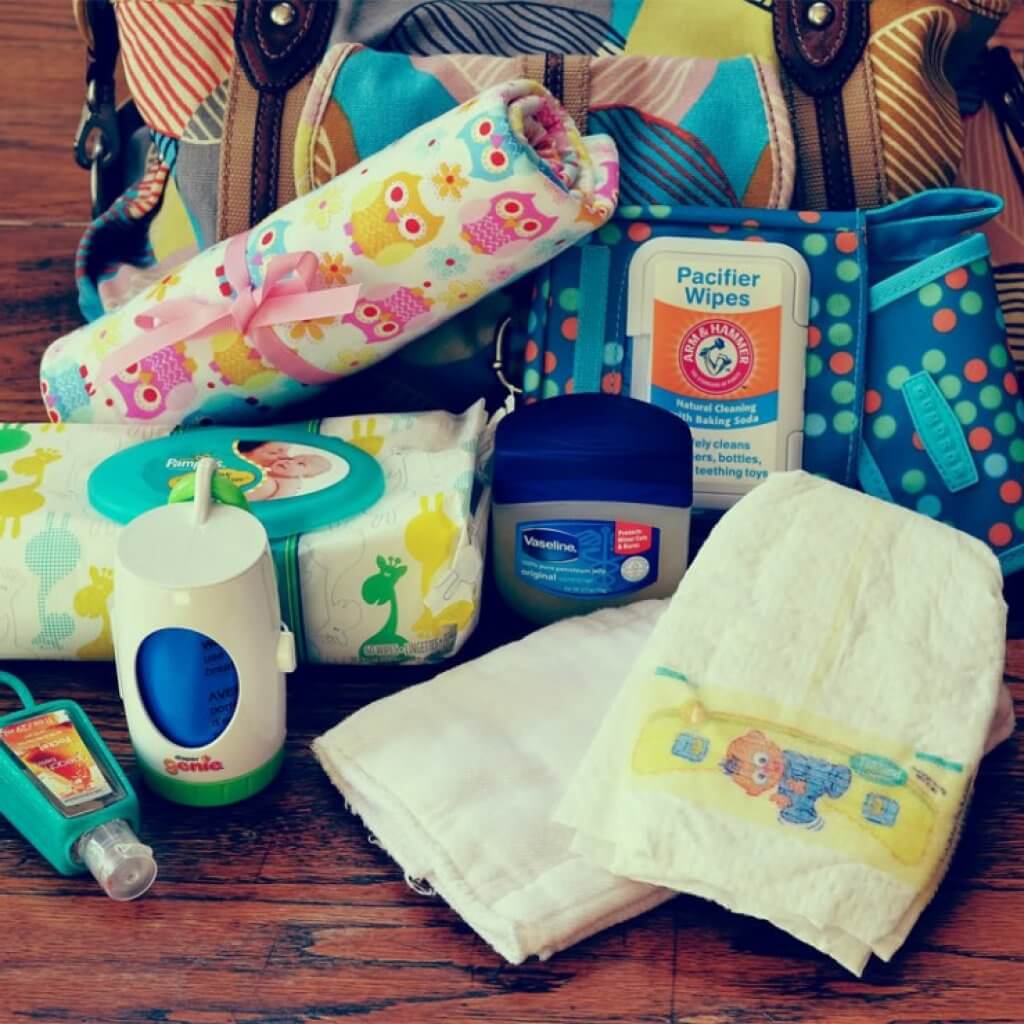 In my way of paying it forward, I have compiled a list of essentials I think every diaper bag should have and why. I hope this list helps. Feel free to print it out and laminate it. You could even punch a hole and attach it to your bag for easy reference. Have fun with it and get creative. Life hack the heck out of it. If you need, there are tons of great recycled storage ideas online. I hope this list enables and empowers you to be the super mom you know are!
Diaper Bag – The most essential of the essentials – You gotta have a bag! I mean, what's the point of getting all of these essentials together if you have nothing to put them in! There are tons of diaper bags to choose from. Both conventional and unconventional. I suggest finding one that works for you. It can be a backpack, a tote, a cart on wheels or even a basket. It doesnt have to be trendy, or cost a lot of money. It just has to be comfortable, durable, and right for your needs. Keeping in mind what you want it to contain and the ease of transporting it. You will have this bag with you everywhere you and your littles go. Make sure you'll be able to carry it easily along with anything else you have to hold or carry.
Diapers – Storing your diapers in a ziplock bag will not only keep them clean, dry and safe from spills. Also, put one or two diapers in a separate ziplock and tuck it in one of the many compartments. That way if your bag didn't get restocked you will always have a back up.Don't forget to pack Baby powder or diaper rash ointment -a diaper rash is no fun
Wipes and washrags – baby wipes are some of the most useful and versatile products ever invented. You can clean just about anything with a couple of those puppies. Keep your wipes in a small airtight container or bag. That way they won't get dried out and they easily store. Keep a couple dry washrags in a ziplock bag. You just never know when you might need them. You can also keep and washrag in a zip lock with a ¼ cup of water and a few drops of dishsoap making for quick and easy cleaning on the go.
Swaddling blankets – at least one stored in a waterproof container or bag to keep it clean and dry. Whether your baby needs to be wrapped snug as a bug or you are trying to keep spit up off your favorite top, it'' always good to have one nearby.I find the uses for a swaddling blanket to be endless.  They are even helpful when nursing in case you forgot your wrap.
Snacks – for your kiddos of course, but for you as well. You never know what surprises the day has in store. Being hungry makes everything more stressful and difficult. Make sure to take care of yourself too! No one likes it when mommy is hangry! Also, preparing snacks for you bag allows yoou to provide healthy nutrisios food for your youngsters and yourself. Having individual snack packs prepared and ready helps kids to transition better and helps with time management. There are bunches of ways to store your yummies. Get creative or prepackaged grab and go snacks works too. Don't forget to always pack some Utensils/Straws – a kids pencil bag will keep your utensils clean and easy to find.
Water – always have a container with clean fresh water with you. There are even ways to attach the containers to the straps of your bag. That way you have more free space to keep necessities. Also it's a good idea to keep at least one gallon of fresh water in your car for emergencies. Depending on temperatures you may want  to keep two in your car.
Disposable plastic bags –  this is a great way to recycle some of those old grocery bags that you are holding on to or doggie doo clean up bags work well too. You can even get a dispenser for your bags that will attach to the handle of your bag just a couple will do. Babies sometimes have blowouts. If you don't know what I mean you will eventually. In case you ever have to store something that you don't want to smell or to cross contaminate. Also great for storing a dirty diaper when there isn't a way to dispose of at the time
Baby wash –  perfect use for those little travel containers for shampoo, or clean baby food container will work great as well. Be sure to label for easy identification
Binky – if you use them you know you should probably have a couple with you at all times. Life sucks for everyone when you can't find one and that's all your baby wants. A clean dry baby food container is a great way to store these so they stay clean and are easily found.
Change of clothes – for not only your little ones but a clean shirt for you as well. It happens the need to have a clean shirt and you are nowhere near your closet. Keep clothing in a waterproof bag or container
Changing pad –  Having a barrier between your baby and that cold plastic supermarket changing table is a no brainer. Traditionally changing pads are great but a more unconventional and multi-purpose item you may want to consider are
Disposable placemats – they not only work great for this, but can also be used in grocery carts and of course their intended purpose to eat on. Most stores carry them or try Amazon.
First Aid Kit – this doesn't have to be a big fancy store bought one you can easily throw one together. Keep a few band-aid and some antibiotic cream and sunscreen in your diaper bag and the rest of the kit in your car. An old wipes container or even a ziplock will work fine. Your first aid kit should have: Bandages, Gauze, Medical Tape, Ace Bandage, Antibiotic Ointment, Antiseptic or Antiseptic Wipes, Itch Cream, Sunscreen, Aloe, Benadryl, Thermometer, Pain and Fever reducer for Both kids and mommy
Pediatricians / Dr's phone numbers – in case your kiddo is kicking it at the grandparents or your out and about and you need the advice of a doctor right away. It's always good to have in an easy to find spot. Listing allergies, medications  and other important phone numbers, contact, and insurance information is a good idea. Plus it's helpful for other caretakers or emergency workers to have available. Write all of the info down in a list, laminate, and attach to the inside of your bag.
Bottles – Having two bottles in your bag is better than one if your child uses them. That way you have a back up if the first one wasn't able to be cleaned right away or one for formulas and milks and one for water and juice. Having formula ready to go in a bottle is a good idea if you bottle feed. Having your formula measured and in the bottle ready for  use can be very helpful. Just cover bottle with plastic wrap and replace lid for spill proof storage. Storing your nipples in a seperate container like a cleaned baby food jar is a great way to keep them clean and accessible. Flipping the nipple in the lid and putting lid back on the bottle works great too!
There are so many things you can take with you on your outings. This is just a few of the essentials that are good to have on hand. Feel free to add to or take away as you choose. Try to simplify and remember to have fun, be safe, and make lots of happy memories!
Changing Pad / Disposible Place Mats
Most Read